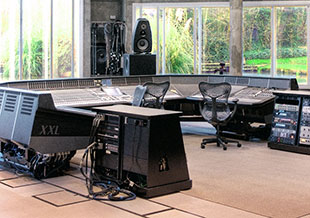 Scrub has been instrumental in supporting Real World Studios' upgrades to its Avid Pro Tools HDX and latest software.
Technical Sales staff from Scrub – HHB Communications' Soho-based subsidiary – have supplied Pro Tools HDX hardware I/O and v11 software for the Big Room, an HDX system for the Wood Room and Pro Tools HD Native for the new Producer's Cottage.
Centred on a 72-channel SSL 9000 XL K series analogue console, Big Room is Real World's main recording area and is now benefiting from the increased headroom and track count provided by HDX – an increase of more than 1,000dB headroom and higher resolution sound, brought by the system's new floating-point architecture. This is in addition to five times more DSP per card, and up to four times the track counts and twice the I/O of Pro Tools HD Accel.
Real World also facilitates world-class audio postproduction – everything from sound to picture, ADR and Foley and full cinema mixing can be hosted onsite. Pro Tools HDX accommodates larger, more complex video productions, and the display of up to 64 video tracks in the timeline. Advanced video features, including multiple video playlists and basic video editing tools are also provided.
'Real World is an internationally renowned recording facility that is known for having the best recording equipment in the world,' says Real World Recording Engineer Patrick Phillips. 'These Pro Tools upgrades ensure that we are at the leading-edge of audio technology, and the enhanced sound quality and efficiency of the equipment will be passed onto our clients. Scrub were very helpful by making the upgrades a seamless transition.'
'It has been fantastic working with Real World's team on these Pro Tools upgrades,' adds Devin Workman of Scrub Sales. 'Their ability to offer clients the best possible experience is now enhanced by the addition of the world's fastest and most versatile DAW.'