Blake Augsburger has joined the Board of Directors of the National Association of Music Merchants (Namm), along with seven other new board members elected from the US and international music products community, including leaders from the retail and commercial domains.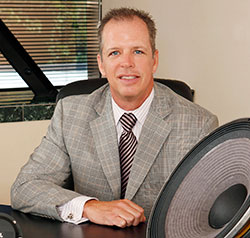 The Namm Board of Directors guides and leads Namm and the Namm Foundation, and offers counsel to the music products industry. Augsburger is President of Harman Professional, Executive VP of Harman International and Country Manager for the Americas at Harman International.
'Namm's impact on the music products industry is both positive and far-reaching, and I look forward to working with Chairman Larry Morton, Chief Executive Joe Lamond and my colleagues on the Namm board to advance the organisation's mission and to strengthen our industry's development,' Augsburger says.
'We are extremely fortunate to welcome a diverse and accomplished group of new board members, representing both retail and commercial members, from a wide range of music industry segments,' says Chairman Larry Morton. 'This talented group of Directors also reflects Namm's desire for inclusiveness of professional men and women from small and large companies, both here in the United States and around the world.'
Blake Augsburger leads Harman's global professional audio, musician and lighting technologies businesses. Harman is a long-standing and active member of the Namm organisation. Augsburger's appointment to the board, however, is the first instance of a Harman executive taking a senior leadership role with Namm.