Two of the concerts from Peter Gabriel's recent Back to Front tour were filmed and are currently being edited for release as a 4K Cinema feature. The performances are from London's O2 Arena, and the audio mix for movie and DVD release is being handled by Ben Findlay using Real World Studios' Dolby-certified Exigy speaker array.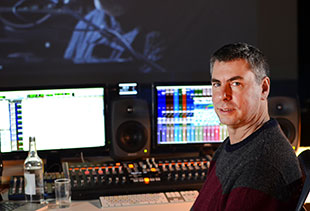 Having mixed extensively at Peter Gabriel's Real World Studios throughout the 1990s, Findlay is primarily a live engineer these days and has worked on shows for Paul McCartney, Jeff Beck, Robert Plant, Cat Stevens and Sting, as well as Peter Gabriel. He reports the Sonnox Oxford EQ is playing a crucial role in the project, with the GML Option a particularly helpful asset.
'Most of the EQs in this mix are Oxfords, and the Inflator is my secret weapon,' he says. 'I use it primarily on Peter's vocal channel, to give it a presence that dominates the mix. It's proved extremely effective in bringing extra life to the drum bus as well.'
'Oxford Reverb is also a great favorite, he adds. 'It's really flexible, you can tailor it do exactly what you want. There's a very comprehensive EQ section built in to the reverb too. I'm using it on the drums, on some of Peter's vocals, and on David Rhodes' acoustic guitar. With two guitars on some songs, I need to separate them. I find using a subtle amount of Oxford Reverb helps define a space for each instrument.
'When we played the show mix back to Peter we put the Warmth Function on the Dynamics plug-in across the entire mix, which he loved. So the whole show has that process added to it in varying degrees. That made the sign-off process much easier and was a bit of a lifesaver. Sonnox feels to me like a very solid brand, and the support is always great.'
More: www.sonnox.com