The Experience – an interdenominational gospel concert staging 11 hours of non-stop prayer and live music – is the largest live event in Africa, recently attracting more than 500,000 worshippers to Tafawa-Balewa Square in Lagos. Convened and hosted by Pastor Paul Adefarasin and adopting the theme 'Heaven on Earth', is relied heavily on the sound production efforts of Nigeria-based Cytech World Communication.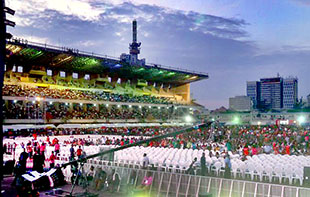 As the country's Outline distributor, Cytech had purchased a GTO C-12 line array system with DBS-18-2 subwoofers and T-Series amplifiers from the Italian loudspeaker manufacturer shortly before the event – as a result, The Experience FOH audio system comprised 30 GTO C-12 plus two underhung GTO-DF (down fill) modules, while 16 DBS 18-2 and four Lab 21 HS subwoofers provided low and infra-low frequency reinforcement.
Twenty Butterfly elements were also used to provide the necessary coverage width for the audience near the sides of the stage. Six Outline two-way DVS 12 provided front-fill and 24 Butterfly and eight Subtech 218 boxed served as delay units. The whole system was powered by Outline T-Series amplifiers.
'For many years I've owned a number of Outline Butterfly systems, which are constantly out on rental, but it's thanks to the new GTO C-12 that my company got The Experience onboard,' says Cyril Utomoibor, owner and MD of Cytech World Communication. 'The C-12 is a beautifully engineered product – what I appreciated most during the concert was the apparently effortless way in which really high-quality sound was delivered over long distances, with unbelievable consistency. As with all Outline products, it's more like listening to a big studio monitor system than a large-format PA set-up. Pastor Paul Adefarasin was amazed and extremely happy, and I'm looking forward to the next great show.'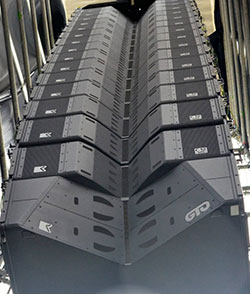 Outline's Openarray-3D acoustical prediction software was used to guide the installation of the sound system, which addressed almost all of Tafawa-Balewa Square – an area 200m by 280m, bounded by tiered seating 20m high and 30m deep, running the full length of its long sides.
'The challenge, particularly in such a vast area, was to manage to reach the crowd in the bleachers with sufficient sound pressure', says Carlo Gennaro, the event's sound system engineer. 'We easily overcame this challenge. In terms of precision, this new array has the merit of behaving like the Butterfly, which I've used for ten years, but with headroom and throw capacities close to those of the GTO. Having said this, I don't think anything else needs to be added.'

Among others, the event featured performances by Sammie Okposo, Freke Umoh, Frank Edwards, Eben, Donnie McClurkin, Glowreeyah Braimah, Tye Tribbett, Yolanda Adams, Don Moen and Midnight Crew.