When the blockbuster musical Once hit the road on its first North American tour, Masque Sound was onboard with the sound package. Having taken eight Tony Awards, including Best Musical, and the 2013 Grammy Award for Best Musical Theater Album, sound production was a particularly important consideration.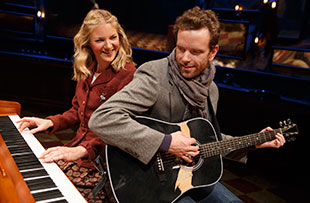 The story of an Irish guitarist/singer-songwriter and a Czech immigrant who share a love of music and work together on a demo that he can take to London to win a recording music contract, the show also has a visible musical content.
Since the touring production of Once is playing in venues two-to-four times the size of the show's Broadway home (the 1,100-seat B Jacobs Theatre), Clive Goodwin's ambition for the tour was to be able to reach the larger audiences while maintaining the show's intimate feel: 'In order to preserve the show's spirit and character in these much larger theatres, flexibility is key,' says the sound designer. 'Instead of a sound system tailored to a specific theatre, as we have in the Jacobs on Broadway, we obviously needed an audio system that could work in theatres of various sizes and shapes. Even though we have had to increase the volume in order to project to the rear of these huge venues, I am pleasantly surprised with how well it has worked. I think we successfully kept the shows feel with a comfortable sound level.'
The package included the DiGiCo SD7 digital console that Goodwin likes for its extensive number of inputs and outputs, as well as signal routing flexibility. In addition, Masque Sound provided a custom speaker array from d&b audiotechnik, as well as a large Sennheiser wireless microphone package, comprising EM3732 receivers and SK5212 transmitters.
While creating the 'right' audio system for the travelling show, Masque Sound also planned for frequency coordination. Keeping the show's 40-plus channels of wireless interference free from city-to-city is quite challenging. Masque Sound's expert team provided the touring crew with the information and equipment they needed to ensure that all of the wireless signals would remain clear and disturbance free.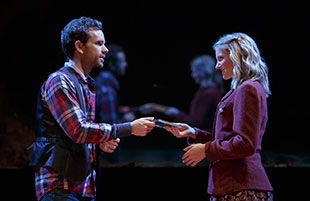 Goodwin has worked with Masque Sound since the beginning of Once's successful run, when it began playing at the New York Theatre Workshop and then moved to Broadway. Based on this working relationship and Masque's experience and knowledge of the production and its audio requirements, collaborating with the company on the touring production was a natural choice.
He credits the theatrical sound reinforcement, installation and design company with providing him the gear to says his aim: 'Masque Sound has so much experience and is so good with their touring equipment that we were able to put together everything we needed from their extensive inventory,' he Goodwin. 'They know the equipment that I like to use and know what can stand up to the rigors of a travelling production and used that knowledge to provide me with a great custom solution.
'Masque Sound consistently affords me the equipment and services I need to create a fantastic production,' he adds. 'Their service is first-class, and they are one of the hardest working providers. I always enjoy collaborating with them. As expected, everything turned out great.'
More: www.masquesound.com