While its primary function is providing a home ground for the Jeanne d'Arc Dijon Bourgogne basketball team, the Palais des Sports in Dijon also hosts a wide range of other sporting activities. An ageing public address, lacking in level and speech intelligibility, was letting the side down, however…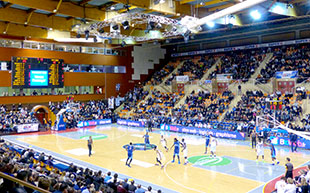 IRELEM won the tender for a system upgrade, and proposed a solution, based around four Powersoft Ottocanali amplifiers in conjunction with Powersoft's French distributor, Axente. With limited space in the production/control room, the new Ottocanali 12K4 and 4K4 met the criteria for high efficiency and high power-to-space ratio – and were specified for the first time in France since their introduction. The 12K4 offers up to 12kW output power over eight channels for lo-Z or distributed line systems, while the 4K4 delivers 4kW output over eight channels. The sound quality and output stem from Powersoft's proprietary class-D topology and low carbon footprint philosophy.
With three 12K4s (for mid and low) and one 4K4 (for the highs) driving a new EAW 12 QX300 series loudspeakers, the system addresses the entire area of the 4,628-capacity arena, including main public stands and VIP enclosures. In the words of Axente's Alain Hercman, 'There has been a great improvement in intelligibility and a gain of 12dB in sound pressure level.' The PA system is fed from mic and line sources on match days via a Yamaha mixer and EAW processors.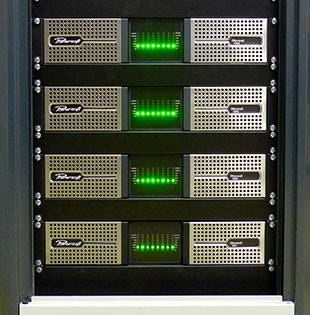 Powersoft had been chosen for its reputation in producing highly reliable amplifiers – backed by a four-year warranty which Axente say was very reassuring to the customer. In fact, says Hercman, the client has already reported a significant intelligibility improvement – and this despite the difficult acoustic environment.
The new installation is part of a larger technical integration designed to maintain the versatility of a venue that also hosts handball and a variety of sports (including gymnasiums among its facilities). It also includes two Martin Pro Mac III Profile yokes, previously sold by IRELEM and hung in a truss above the basketball pitch. These allow logos to be projected from various sponsors directly onto the pitch – both operated via Wi-Fi from a laptop PC.