An extensive renovation programme has seen Moscow's Gogol Theatre reborn as a modern, multipurpose cultural complex, called the Gogol Center.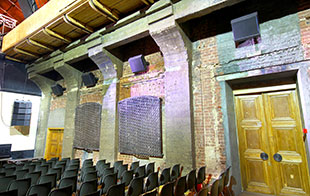 Housed in an old railway station in the centre of Moscow, the theatre is able to accommodate all types of performing arts, and plays on its original architecture for set design. The versatile space required a similarly versatile sound system.
For it sound system, Russian systems integration company Doka Center specified and installed an APG Uniline modular line array system complemented by a number of multipurpose DX15 monitor speakers. According to Doka Center Project Manager Evgeny Kuvarzin, it was the multipurpose nature of the space that dictated the choice of sound system: 'While theatre remains an important part of the Gogol Center's repertory, the venue will also be hosting musical programmes, concerts, cinema and many other things,' he explains. 'We therefore needed a system that is capable of handling all of these types of applications.
'APG's Uniline system in combination with DX15 was an ideal choice for several reasons; firstly, thanks to its modular design, it can be configured any way you like to handle show of any size. Secondly, the price/quality ratio is exceptional. We have worked with many different line array systems from most of the top manufacturers, but in our opinion, none offers the quality and value for money of APG. Finally, the pure performance of the APG systems is truly remarkable. Our customer is delighted, and we have even had compliments from some of Russia's top sound engineers – they have noted that the sound quality is superb, so that makes us all happy.'
In addition to the Uniline system, the Gogol Center has more than 30 DX15 multipurpose monitor speakers. 'The DX15s are a useful complement to the Uniline system,' Kuvarzin says. 'The customer uses them as stage monitors, as a surround sound system for cinema and even as a main system for smaller events. They can now confidently handle any size and type of event and know that the sound will be great whatever happens.'
'This installation serves to reinforce APG's international presence, and of course, more specifically our penetration into Russia,' says APG VP of Global Sales, Bruno Garros. 'Evgeny and his team from Doka Center have done a wonderful job with this project in the centre of Moscow, and thanks to their excellent work with APG, this is just the first of many prestigious installations in Russia that we will be announcing during 2014.'
More: www.apg.tm.fr