The western suburbs of Chicago, recently saw a five-month renovation of the Calvary Church of Naperville completed – bringing the capacity of its sanctuary up from 2,500 to 3,000 without moving any walls. The project also included a full A/V and lighting system retrofit, designed and carried out by CCI Solutions.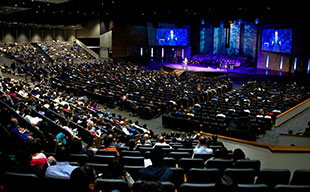 According to CCI Church Relations Director Duke DeJong, the church paid particular attention to the audio installation: 'The new sound system had to be more than a home run, it had to be a home run with fireworks,' he says. 'The audio needed to be intelligible, powerful and flexible – spectacular in every sense.'
With this directive, CCI Senior Systems Consultant Mark Pearson and his team turned to three leading loudspeaker manufacturers requesting that each help design two potential system choices for CCN's sanctuary. Out of the six designs, L-Acoustics' Karai system won the bid: 'Tim Loar, our worship pastor, and I visited L-Acoustics and listened to Karai and Kiva side by side,' says CCN Technical Director, Dave Sheneman. 'The demo was particularly impressive, considering that we were listing to the systems in a parking lot – not in a room with walls to reinforce the lower frequencies. Suffice it to say that we were sold on Karai within just a few minutes.'
The sanctuary now features an LCR loudspeaker system comprised of 27 Karai enclosures divided into three arrays of nine enclosures. Low-frequency arrays of four SB18i boxes are flown adjacent to the left and right Karai arrays, while four double-18 SB28 subs are positioned under the stage for bass reinforcement. Eight LA8 amplified controllers power and process the main FOH system. Additionally, front-fills for the sanctuary are made up of a combination of four coaxial 8XTi and four smaller 5XT enclosures, collectively driven by a pair of LA4.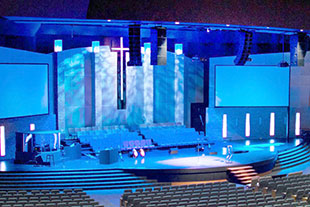 'With worship services often featuring a nine-voice praise team, 80-member choir and large band with three electric guitars, an acoustic guitar, bass, two keyboards, organ and drums all on stage at the same time, the need for clarity and impact was paramount,' DeJong says. 'The L-Acoustics system is extremely transparent and super-powerful. The church got its fireworks and is enjoying the new sound immensely.'
'The challenge that the Karai, SB and XT boxes solved for us was how to cover a wide, rectangular room with clear and even sound,' Sheneman says. 'The lack of an obvious transition between arrays, the full low-frequency coverage we get from the subs, and the fill help we get from the XT boxes all work together to create a very pleasing, full and loud – but not harsh – sound throughout the room. Randal Ross, our senior pastor, told us that he couldn't be happier. He says this system is one of the best investments our church has ever made.'
The Voice finalist Nicole Serrano performed at the first service in CCN's remodelled sanctuary, and two weeks later Grammy Award-nominee Sarah Kelly shared some songs during the church's official dedication service.