Powersoft's presence in South America has received a boost with Argentinian rental firm Equaphon making extensive use of Powersoft amplification.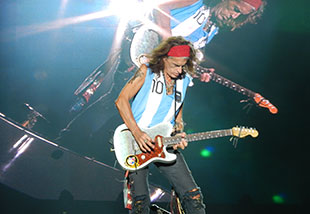 Established in 1973 by Carlos Maiocchi as a pro audio systems manufacturer, Equaphon took on distribution of the Powersoft brand in 2003 at a time when there was no market in the country's installation sector.

Today Maiocchi quotes around 70 companies using Powersoft systems, notably Buenos Aires Live Show (BALS), Argentina's largest and most prominent event sound and lighting company.
Set up in 1992, BALS began with Powersoft's large Digam 7000 amplifier: 'It was an easy decision for them to move across to Powersoft technology – especially once the K series had been launched. We helped to show them that this was the technology that would arguably change the market for professional amplification,' Maiocchi says.
Today BALS inventory includes an extensive complement of Powersoft amplifiers and has put them to use on large capacity shows for Aerosmith, Black Sabbath and Justin Bieber where 24 K10s and eight K8s drive the main JBL VerTec system, along with 20 K10s fro subs and a further four K10 (and a single K8) for side fills.
At the large Cuidad del Rock (Rock City) in Buenos Aires, BALS provided 22 K10s and two K8s to drive the VerTec system out with Blue, with ten K2s again assigned to the main hangs for the Ringo Starr concert at Luna Park in the Argentinian capital. With efficiency to the fore, BALS' amp racks carry three K10s and a K8 (main PA rack) and either four or six K10s for the sub rack. The Monitor Rack is loaded with three Q4002s and drum fill rack with two M50Qs. 'With this configuration, we can substantially reduce the number of amplifiers, space, weight and power consumption,' says Diego Aballay of BALS, 'And given the opportunity of using such a good tool as Powersoft's Armonía [Pro Audio Suite], we continue to use the [Lake] LM26 for loudspeaker system control.'
'No one can challenge the sound quality of Powersoft or surpass their benefits, which include reliability, performance and versatility, he adds. 'And as for service, the support we receive from Equaphon in Argentina is excellent – they are there for us 24 hours, 365 days a year.'