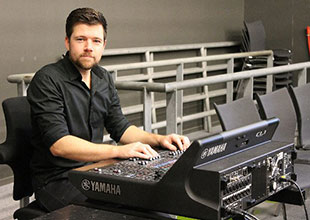 The De Toneelschuur theatre and cinema now screens independent and art house films alongside family movies and cinema classics to its audience in Haarlem. It also stages experimental theatre, mime, cabaret and drama productions alongside contemporary plays and comedy. This diversity has led to it being regarded as one of the Netherlands leading arts venues.
Supporting its event programme, the venue has installed new Yamaha digital mixing consoles supplied and installed by Audiopro.
Designed by artist Joost Swarte, the current building was opened in 2003 and features two theatre spaces and two cinemas. De Toneelschuur's relationship with Yamaha digital mixing began earlier, with one of the first DMC1000 consoles in the Netherlands and has included the 02R, 02R96, DM2000 digital consoles and a wide array of digital audio processing equipment. The first of two new desks CL12, along with a Rio1608-D I/O unit for use as a mobile system, has been installed in the smaller of the two theatres, along with another Rio1608-D I/O unit and a Yamaha DME64N digital mixing engine.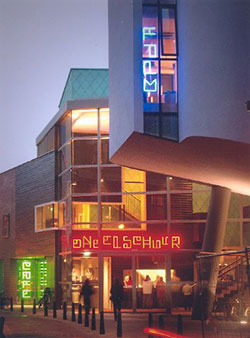 'Choosing Yamaha consoles again ensured that we bought reliability, ease of use, acceptance and compatibility,' says Pim van den Heuvel, sound designer and engineer at the venue. 'As a long-time Yamaha user, we also have many MY cards for different protocols – Adat, AES/EBU, analogue, the Dugan-MY16 auto microphone mixing interface and so on – which can all be used with the CL1.'
In the bigger performance space, a Yamaha DM2000 v2 digital mixer is fitted with two MY16-AUD interface cards or integration with a Dante network – plus two more Rio1608-Ds and another DME64N. The digital mixing engines are used to distribute feeds to 5.1 surround loudspeaker systems in both spaces.
'Using a Dante network allows us to be very flexible. Being able to position the R-series I/O units anywhere is very convenient, it allows us to locate audio i/o virtually anywhere in the building,' says Pim.
'We try to keep the systems as straightforward as possible, especially for working with guest engineers. The CL1 user interface is clear, the User Defined Keys make it very comfortable and understandable. Being able to use custom layers for layering the flexible user interface on top of our fixed infrastructure is great. It is easy to explain the CL1 to any guest technician in minutes and it has been happily accepted by everyone.'
More: http://audiopro.nl
More: www.yamahacommercialaudio.com