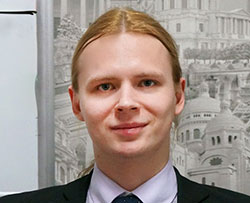 The Walters-Storyk Design Group has announced Pavel Shemyakin as its represetative in Russia.
'With established offices in Switzerland, Argentina, Mexico, Brazil and India, we are keenly aware of the growing worldwide need for professional architectural acoustics and technology integration,' says Co-Principal/Director of New Business Development, Sergio Molho. 'As the Russian market continues to gain importance, we felt an Eastern European bureau would be highly beneficial. The timing is particularly appropriate in light of WSDG's extensive experience with FIFA and Olympic stadiums, and considering Russia's increased hosting activity of international athletic events.'
Pavel Shemyakin studied Sound Engineering at the St Petersburg State University of Cinema and Television. He has logged more than years as a successful pro audio sales and distribution rep, and served as a brand manager for SSL, Avid and API.
Shemyakin owns Studio Center, a company specialising in pro audio consulting and systems integration. In addition to his office in St Petersburg, he maintains a network of partners across Russia. The firm provides services for commercial and private recording, postproduction and broadcast studios, theatres, concert halls and educational facilities.
'WSDG enjoyed great success with a major project for GTRK Kultura, the Russian State TV and Radio Broadcasting Corp.'s Moscow studios,' Molho says. 'It was a rewarding experience, and inspired us to contribute our skill set to other Russian projects. Pavel Shemyakin is technically savvy and extremely well connected to Russia's professional audio/video community. We look forward to a long and mutually beneficial relationship.'
More:
www.studio-center.su
More:
www.wsdg.com