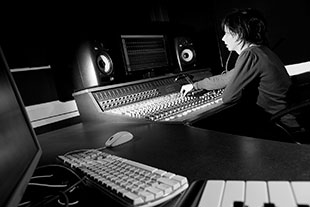 dBs Music has installed an Audient ASP4816 analogue mixing console in each of its Plymouth and Bristol-based (UK) audio education facilities.
The move to Audient is designed 'to encourage students from our range of courses to explore the sonic benefits of working and mixing with an analogue desk and outboard,' says the Plymouth centre's manager, Matt Bernard.
The desk in the Plymouth facility is being used with a Pro Tools 16 i/o HD workstation and a range of outboard gear, with monitoring from Adam A8X loudspeakers. 'Our requirements were for an analogue signal path to replace a digital control surface that wasn't getting a huge amount of use,' Bernard says. 'It also balanced up the analogue/digital content in our main teaching studios in Plymouth.'
The installation follows use of Audient's ASP8024 in dBs Music's Berlin studio, but for dBs Music UK it was a first: 'The layout of the console is very clear and intuitive helping the students get a clear understanding of the signal path, and the comprehensive centre section allows them to get the feel of a large console in a small footprint,' Bernard reports.
There are plans to develop the centre to add new courses in Bristol later in 2014, where the second of the ASP4816 consoles has been installed, and is already instrumental in teaching HND Music Production students and three different degree courses.
'The ASP4816 was the clear choice for a pure analogue console at this price point,' Bernard says. 'I think the flexibility in the routing, balanced inserts and quality of the audio really make it stand out from the competition. We were not looking for built in A/D convertors or any digital processing, so the focus on audio quality was important for us. The ASP4816 is transparent and wide open with plenty of headroom, something we have found lacking in other consoles.'
dBs Music prides itself in 'the wide spectrum of recording, production and performance equipment covered.' This has been supported by educational technology experts at Academia.
'We have invested a significant amount of money in kit over the past few years and it's important for us that it will stand up to the rigours of education,' Bernard says. 'Academia was very knowledgeable about the functionality of all the desks we were considering and seem uniquely placed to offer the knowledge and support in this area.'
'The ASP4816 is a solidly-built desk, and with so many features in such a compact form is a great choice for dBs Music training centres – especially when it comes in at such an impressive price point,' says Neil Boia from Academia's Audio & Video division.
With 700 students in the UK and diploma courses in great demand, dBs Music is now focusing on the Bristol centre. Bernard also already has his eye on some more Audient kit: 'We are considering iD22 in the future for Plymouth,' he confirms.

See also:
Education: Teach Your Children Well