Once every seven years, the small Swiss monastery town of Einsiedeln hosts a large-scale open-air production of Pedro Calderón de la Barca's Welttheater (world theatre). For its most recent performance, the 'mystery play' was reworked and redesigned, and reworked to fully support its scale and complexities. Sound design for the event fell to Tom Strebel of Basel-based audiopool, who used the Out Board TiMax2 SoundHub audio localisation system, as in previous years. This year – for the first time – he also used TiMax Tracker performer-tracking, which controlled the TiMax SoundHub delay-matrix in real-time to achieve fully automated vocal localisation for the entirety of the 2,700 audience.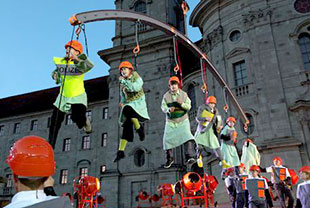 'TiMax is now indispensible for theatre production because of the great improvement to the clarity and intelligibility of the speech,' he says. 'You don't hear it when it is working, but when it's not there the difference is uncomfortable.'
The cast and much of the behind-the-scenes support were drawn from the town and the surrounding areas – more than 300 men, women and children of the town all committed themselves to Welttheater. Given its scale, the production was intensively rehearsed for its 41-performance run.
The town functioned as usual during the day, but in the evening the nightly performance was prepared in the area in front of the monastery, in a temporary amphitheatre with tiered seating and all the technical paraphernalia of a full theatre production. Although stage sets were minimal there were striking effects, such as suspending six children from a construction crane. In keeping with its tradition, the production's costumes were extravagant and often bizarre.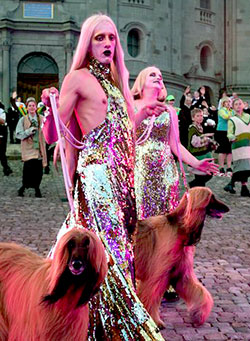 The vast stage area was divided into 19 TiMax Image Definition localisation zones: seven downstage, five midstage, three upstage and a further four Images spread across the upper and midstage area for the musicians situated in four caravans (which also moved around).
The performers used Sennheiser Digital 9000 series wireless mics, and the sound reinforcement loudspeakers were provided by Fohhn – seven compact line arrays were positioned as anchors for the vocal localisation, with one at the monastery door, two left and right at upstage centre, two left and right upstage wide and a further two at the left and right upstage very wide locations. Seven pairs of smaller boxes were positioned in the seating tribunes for the lower audience area and a further seven pairs for the upper audience, with each block of seating having its own left and right focussing delay pair. The rear tribunes were served by a further pair of surrounds, with subs beneath the seats.
'In the theatre, you can work with light to pinpoint people,' Strebel says. 'Here, the performances took place before dark, so it is important that actors' voices appear to come from the right direction, otherwise it is too difficult to understand what is happening on a big stage.'
'TiMax all worked very well,' reports Out Board's Robin Whittaker, who conceived the distributed speaker system design and was on site to assist with alignment and tuning. 'We did this with manually-cued delay-imaging seven years ago and the producers loved it, so it was great to return again with the new TiMax2 SoundHub, and this time with TiMax Tracker automation to make it even better.'
More: www.audiopool.net
More: www.outboard.co.uk
More: www.sennheiser.com