Taking time out from his working schedule, Grammy Award-winning producer and DJ Supa Dups has added to the Prism Sound component of his studio set-up – a Titan USB multitrack interface has joined his Lyra 2 audio interface. 'Prism Sound is the Rolls-Royce of converters, and there's nothing else that sounds like it,' he says.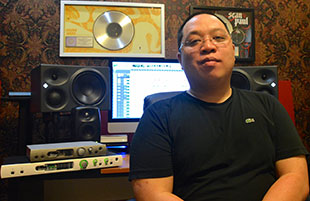 'I haven't had a lot of time to play with Titan yet, but I keep having excellent experiences with Lyra,' he says. 'The other day I was working with a band and plugged the guitar and bass into it at the same time and used it right there on the spot. It sounded excellent. We finished everything on it, even the demo vocal. It has become the studio's centrepiece.'
Currently one of the most sought after writer/producers on the US circuit, he has worked with artists including Eminem, John Legend and Bruno Mars. He is a member of the Black Chiney Sound System, a nod to his Chinese Jamaican heritage.
Supa Dups spends a lot of time working out of Circle House studios in Miami, and credits the city with having a fantastically diverse music scene: 'It's like London minus the dub-step, but with an additional overall Caribbean influence which collides with the American sounds. It's definitely got a style all of its own,' he says.
Recently he finished a live reggae album: 'I didn't know I could do that,' he says. 'It was a challenge for me but I'd definitely like to be involved in more entire projects in the future, and writing classic albums that people will be listening to in decades to come.'
He also intends to spend more time learning the Lyra 2: 'There is a lot more to explore,' he says. 'I've used it for hours and hours and technically I'm not sure I've broken the back of it yet. There's still a lot to learn and play with, but it always sounds awesome.
'There's other equipment, and then there's Prism Sound,' he adds. 'The Lyra 2 is my mobile rig now.'
More: www.prismsound.com