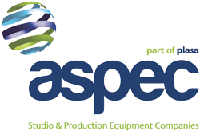 As of January 2014, ASPEC (Association of Studio and Production Equipment Companies) members will become full members of Plasa, as well and acting as a special interest group for the film, television and broadcast community.
The merger of the two associations will lend Plasa's knowledge, experience and resources to ASPEC members, while ASPEC will work closely with Plasa's Production Equipment Rental Group (PERG), its counterpart based in North America, discussing and sharing common rental issues affecting the sector.
Comprising many of the UK's film, television and broadcast facilities, ASPEC has operated in its present format since 1994. It will continue to provide training and qualifications, as well as addressing health & safety, and security and legislation issues. At present ASPEC and PERG are trying to reduce the global levels of fraud and equipment theft.
ASPEC is involved in training at all levels and works closely with Skillset and Assessment Centres on standards, qualifications and apprenticeships. ASPEC also passes on safety information through its members and co-chairs the Film Broadcast Health & Safety Group (FBHS).
ASPEC Chair, John Rendall, and Secretary, Kate Furssedonn, retain their current positions.