Part of the refurbishment of its broadcast facilities, the Shenzhen Media Group has refitted a 200-sq-m Shenzhen City studio used by the Shenzhen TV Company, one of SMG's 12 TV stations. Key to the audio refit, Hiroshi Technologies supplied two of Bel Digital Audio's BCR-A4-4OB in-rack monitors and two 7150 audio synchronisation delays.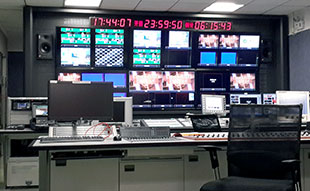 The Bel BCR-A4-4OB is a cost effective, two-channel multi-input audio confidence monitor, which has only recently become available as a non-custom product. Originally designed to be used in OB applications where available space is limited, the monitor is housed in a 1U rack with a reduced chassis depth of 200 mm.
Four pairs of balanced analogue audio inputs and four pairs of AES inputs can be monitored. The selected input signals are available via line outputs on the rear panel, as well as via magnetically screened speakers (designed to provide high SPL audio) and the front panel headphone jack; their levels are provided on two PPM LED bargraphs.
SMG also installed two Bel 7150 two-channel synchronisation delays in the same control room. The Bel 7150 features both analogue and AES connectivity as standard and can delay stereo audio by up to 10.4s [260 frames PAL, 312 frames NTSC]. This makes the 7150 particularly suited to video/audio resynchronisation (lip sync), virtual studios, audio web streaming and digital broadcast synchronisation where a very fine delay adjustment is essential (down to 20uS increments).
Eight user-defined settings may be stored in memory and recalled locally or remotely via GPIs. The delay time may be changed in increments of samples, milliseconds, fields and frames. Field and frame values may be changed to reflect PAL or NTSC operation. A front panel lock is provided to prevent inadvertent operation and bypass relays engage in the event of power failure.
The Bel 7150 provides simultaneous analogue and AES outputs. This permits the unit to function as an analogue to digital or digital to analogue converter. The AES output can be synchronised to an external AES reference input, while a bit accurate delay mode is provided to allow encoded AC3 and Dolby E streams to be delayed.
Shenzhen Media Group was established in 2004 in Guandong Province with headquarters in Shenzhen City. It currently comprises 12 TV stations providing a variety of services including news, drama, music, entertainment, children's TV and finance programming. The Group also has four FM radio stations broacasting music, news, lifestyle and traffic programmes.