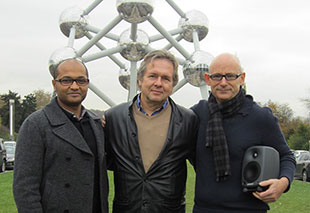 Genelec has named newly created company XLR as distributor of its professional active monitors in Belgium.
Based in Brussels, the XLR team includes Jan De Brucker and Louis Lukusa who have both previously served as Sales Manager at ASC handling the distribution of Shure, L-Acoustics and other lines. At XLR, Genelec joins L-Acoustics, Allen & Heath, Drawmer and Foxtex among other lines
'The XLR staff all have a long personal track record in the Belgium and Luxembourg audio market and we look forward to working with this enthusiastic team of people,' says Jarmo Masko, Genelec Sales Manager for Western Europe & Africa.
'The choice to distribute Genelec was made for business reasons – the high quality of their product offering and also because of their corporate culture,' say Jan De Brucker and Louis Lukusa. 'Behind the success of Genelec are people driven by an ideal that leads to quality, respect and excellence. We share their values and are willing to follow their mission to bring joy to customers' lives with the best sound reproduction possible. We are convinced that this is the key for a long and successful collaboration."