Previously a Pyramix-based facility, London's Absolute Radio has re-equipped with the latest Avid Pro Tools software and hardware as part of a recent upgrade.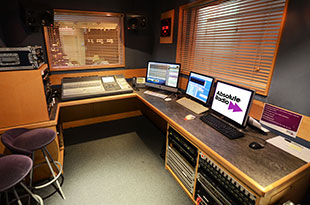 Absolute Radio's producers were attracted to new features introduced by Pro Tools 11 and upgraded all four of its studios with the latest version. Studio C now features a Pro Tools HD Native Thunderbolt system with an HD Madi interface, while three other studios are using v11 software with new iMacs, MBox Pro interfaces and Artist Series controllers.
Sales and technical staff from Scrub – HHB Communication's Soho-based subsidiary specialising in serving the postproduction industry – supplied, configured and installed the new systems, and provided extensive training for the station's producers.
'Our producers are often expected to turn around content in minutes, so the faster-than-real-time offline bounce is essential when they are working on the station's branded content,' says Absolute Radio's Head of Broadcast Technology & IT, Dean Woodcock.
He adds that the plug-ins bundled with v11 have been integral to the live, acoustic sessions recorded at the station, most recently with Beady Eye and Franz Ferdinand: 'We are able to record 24 tracks of audio in Studio C with the HD Madi interface feeding into Pro Tools. We also have a Thunderbolt connection for ultra-fast processing. Pro Tools' built-in plug-ins provide most of what we need to produce great-sounding recordings. We have seven stations under our umbrella and they are all benefitting from the enhanced workflow and sound quality of Pro Tools 11.'
'Scrub provided training for the engineers and has continued to help us with technical support after the sale,' he adds. 'It is great having them just around the corner because it means we don't have to fix things over the phone or online; they can just pop in and help us with any queries in person. Scrub has been brilliant throughout the process and we are very happy with the service.
'The versatility of Pro Tools 11 opens it up to new applications in radio broadcasting,' says Devin Workman of Scrub Sales. 'The offline bounce with simultaneous rendering to multiple formats makes it extremely quick for dialogue editing and repurposing content, and stations like Absolute Radio are reaping the benefits.'