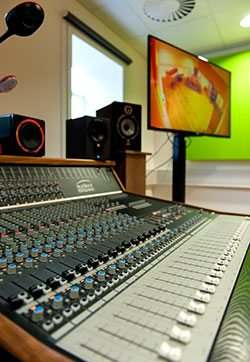 Tech Music School London has begun 2014 by adding a 24-channel large-format Audient ASP8024 analogue mixing console to the ASP4816 installed last year at its Fulham facility.
'The ASP8024 is simple enough for students to immediately grasp the basics, yet versatile enough to be able to cover much more complex routing and configurations,' explains Senior Lecturer of Music Production, Ciaran Robinson. 'Classes can range from tracking a single microphone, to setting up a full mix with subgrouping, analogue automation and DAW control. The ASP8024 meets the needs for this and much more.'
BA (Hons) Music Production degree students spend the most time learning their craft with the Audient desks as the Recording Skills and Mixing & Audio Production II courses were both written with the Audient consoles in mind: 'The main features that make the Audient an excellent tool for education is the easy to understand signal path & routing system along with great preamps,' says Head of Production, Johan Englund. 'Its straightforward signal path makes it very easy to teach and for students to understand.
'Both the ASP8024 and the ASP4816 are being used both in classroom teaching and for the students' own projects,' he continues. 'We explore the recording side of the desks in the first year and move onto analogue mixing and mixing with the DLC in the second year. Third year students have the opportunity to expand on one or both of these applications in their final Production Project.'
'The studio time is split between lectures and student facilities, and used for both recording and mixing sessions,' Robinson reveals. 'We have a fully equipped live room, as well as a rack with a nice selection of analogue and digital gear.'
Tech Music School London is part of the BIMM Group of music schools, teaching 3,600 students in total. Group Marketing Director David O'Connor, described the Music Production course at TMS as attracting 'massive interest' and being the fastest growing course within the group.
As with the first desk, the ASP8024 was supplied by educational technology expert, Academia.
More:
www.bimm.co.uk
More:
www.audient.com