The new M2 building at the Thessaloniki Concert Hall in Greece has been equipped with a Cadac R-type mixing console – the last ever to be manufactured.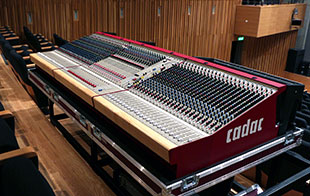 Installed by leading A/V turnkey installation and theatre sound specialist Telmaco, the console is part of a major turnkey project that includes the provision of sound reinforcement, projection, conference and interpretation, video and audio relay, intercom and stage management systems for the main 500-seat Amphitheatron Hall.
'The client requirement was for a console of the highest audio quality and reliability that was quick to install,' says Telmaco Sales Engineer, George Regginiotis. 'The Cadac R-type fulfilled these demands better than any other comparable console.'
Telmaco had previously installed a Cadac S-type console in the central control room in the M2 building when it opened in 2010. The new R-type equips the Amphitheatron Hall with a mix capability for a wide variety of performance and non-performance applications, including large-scale conferencing and event production, and is configured with 48 mono and three stereo input channels, 16 dual groups, one monitor group, 16 DC masters and one VCA master. Many of Cadac's longest serving engineers worked on the build of the console, including Final Test Engineer Tony Waldron, who will now retire after almost 30 years with the company. Also instrumental in the build was Purchase/Stock Manager Chris Hall, responsible for sourcing the components, many of which are a little more difficult to find these days.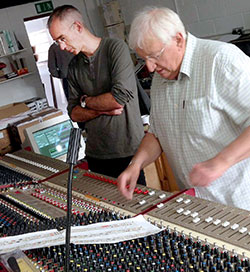 'Despite the market dominance of digital technology and Cadac's adoption of that technology, there are still applications for large-format analogue consoles,' observes Cadac Brand Development Manager, Richard Ferriday.

'These applications see limited value in the logistical advantages and convenience offered by digital consoles, and therefore require pure analogue solutions. For these specialist applications, Cadac is the only manufacturer still committed to providing uncompromising, professional large-format analogue audio consoles. From the legendary 256-input J-type, through the modular S-type to the latest compact Live1, Cadac continues to offer a full range of mixing solutions employing the latest in both analogue and digital technology.'
More: www.cadac-sound.com