Brooklyn-based Rumble Audio Post is now one of three Meyer Sound-equipped post houses in the New York metro area, following the installation of an Acheron Designer cinema monitoring system.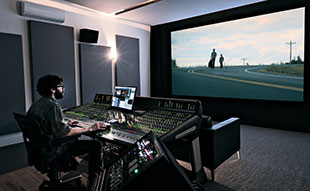 Serving New York City's independent film production community, Rumble's mixing stage has been equipped with three Acheron Designer screen channel loudspeakers, two X-800C cinema subwoofers, six HMS-5 cinema surround loudspeakers and a Galileo loudspeaker management system with two Galileo 408 processors for system drive and optimisation. Presets in the Galileo processors allow push-button setup for television series, advertising, or web-based content.
'My goal is to provide the highest quality audio services at rates that fit the budgets of most independent films,' says Ryan Billia, engineer and owner of Rumble. 'I was determined from the outset that I did not want to compromise on the console or monitoring.'
Billia learned of the Acheron Designer loudspeaker in news stories about the system installed in the screening room at Francis Ford Coppola's American Zoetrope Studios: 'The Designers looked to be the perfect fit,' he says. 'I received very strong encouragement from Marti D Humphrey at The Dub Stage in Hollywood, a veteran who is a mentor for many of us younger mixers. He had been mixing on a Meyer system for a couple of years, and he could not recommend them enough.'
In his first months of operation, Billia mixed Pills, a music-laden short film directed by Craig Zobel, and two feature-length films, one of which was accepted to the Sundance Film Festival.
'I had one filmmaker tell me that with the Meyer Sound system, it was almost like he'd never really heard a film before. The sound is so tight, so focused and controlled.'
Rumble's mixing stage includes an Avid Icon D-Control console, a complete Pro Tools HD system, a Panasonic PT-AE8000U projector, and a rack of high-end analogue outboard processors for sound design applications. Room acoustics were handled by Dave Ellis of Ellis Island Design.
In addition to its main mixing stage, Rumble Audio Post offers a Foley stage and a recording booth for voiceovers, ADR and narration.
More: www.ellisislanddesign.com
More: www.meyersound.com