Funky Junk has been appointed exclusive UK distributor for Sandhill Audio.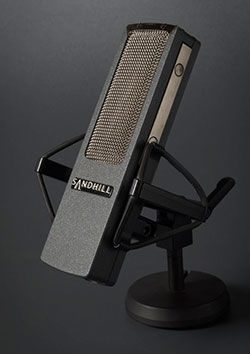 The Finnish microphone company was established by sound engineers Riku Pasanen, Petteri Taponen and Sammy Roiha, launching the 6011A ribbon microphone in 2011. 'We're continuously working on new designs and prototypes and eventually the range will grow,' says co-founder Petteri Taponen. 'However, any product we release has to justify its existence. We will not put out anything just to have more items in the catalogue.'
Taponen explains that Funky Junk was chosen to handle Sandhill's UK distribution because of its reputation for innovative pro audio products: 'Funky Junk's catalogue is exceptional and, being a high-end studio microphone, the Sandhill 6011A fitted nicely into the product range,' he says. 'I was also really impressed with [Funky Junk MD] Mark Thomson, who sent me a long email in response to my initial enquiry even though he was on holiday in Italy at the time. His straightforward way of communicating suited our approach to doing business and it also helped that the company came highly recommended by a number of our contacts.'
The 6011A Ribbon Microphone is designed to be free of the usual limitations of ribbon mic technology. 'The guys at Sandhill have achieved the seemingly impossible – they've designed a microphone that retains the airy warmth of the best ribbon mics with a rugged construction capable of coping with a kick drum, a jumbo jet or a producer screaming at a tape op,' Thomson says. 'The Sandhill 6011A isn't cheap, but great performances demand great microphones. We carry demo stock for discerning tests.'
Although primarily designed for high-end studio applications, it is sufficiently versatile that it can also be used in live environments.
More: www.proaudioeurope.com