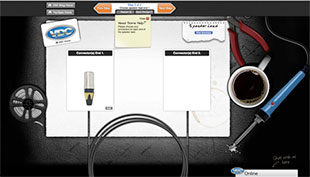 VDC Trading has expanded the capabilities of its website with a service called YouSpec, which enables the design, specification, pricing and ordering of bespoke cable solutions – 24 hours a day, every day. As well as being accessible from the desktop, this is also designed to support mobile working via tablets.
YouSpec has already proved to be a 'game-changer' for VDC clients, delivering everything from simple audio leads to complex stage-box to tails and multi-core loom configurations.
'Customers can specify the Van Damme cable, the colour, the exact length, the connectors, the boots, the labelling and so on required and VDC will manufacture their design and ship it directly to them.,' says VDC CEO Niall Holden. 'Or, the customer can save the design for review later as they spec out their next job.'
YouSpec will not allow dangerous designs to be developed, however. The Head Space section of the website will offers details of VDC's technical expertise and capabilities and also the outline of some of the solutions that have been built for other customers. At present designs can be built around audio solutions with video and data options available imminently. The application will be extended to cater for fibre, mains and hi-fi solutions in early 2014.
VDC's existing trade customers can also access their account details and terms, purchase order history in addition to reviewing saved technical designs and solutions.
The new VDC website offers direct access to more than 8,000 product lines. Each is supported by new product shots (not diagrams) to help customers identify what they need, and to purchase quickly and securely. Clients include blue chip corporations, production and broadcast companies, super-yacht builders and cruise-lines, government bodies, entertainment venues to PA hire companies and touring rock bands.
More: www.vdctrading.com