Unhappy with the poor standard of audio that is typical of public spaces, Unibail-Rodamco wanted to create something better for the Aéroville retail centre.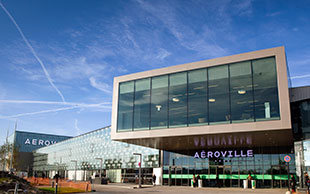 Located adjacent to the Paris Charles de Gaulle Airport (CDG), Europe's largest listed commercial property company planned different playback content for the various areas, requiring 30 input sources and 40 different outputs feeding more than 250 loudspeakers (without parking areas). Merging Technologies' Ovation provided the means.
The company to visualise, design and implement the ambitious system was hého, a company well versed in sound architecture and design having developed a new approach to sound in shopping malls and large public areas. hého took the sound concept proposed by Unibail-Rodamco, and saw the project through all steps in the process except installation.
Exploiting and improving the concept of Sound Paths, the hého team knew what they wanted to create, but a year ago they were still struggling to find a solution that would do this efficiently. Word of Ovation took Laurent Sauvagnac and David Guérin to the Merging stand at ISE 2013 – impressed by the demo and the discussion that followed, the design concept seemed to be achievable and the planning began in earnest.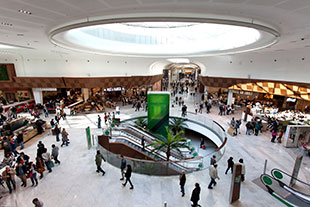 The size of the project was daunting – 84,000m² of retail, 200 shops, 30 restaurants, an Auchan hypermarket occupying 15,000m², a 12-theatre multiplex cinema from Luc Besson's Europacourt, 4,700 parking spaces and a budget of €355m. The plan was to provide a world-class shopping centre for the 120,000 people working in the area and the 60m passengers arriving at CDG every year. Unusual in being all on one level, the design focused on five different and unique landscapes. Different materials and appearances appealed to sight, smell and touch… but what about sound?
The Bali Market, Africa Lodge, Nordic Chic and Tokyo Mix are all distinct areas of the shopping centre that provide a variety of retail themes. And, Terminal Cook provides a fifth scene with a tropical atmosphere for the Dining Experience (taste) that includes a play-alone piano. With all these varied areas, there was plenty of scope for a variety of soundscapes to feed the last of these senses. By programming scene specific atmospheres and identities, and then being able to program a randomised playback, routing and gains throughout the day allowed each district's sonic persona to remain interesting and engaging at all times.
This mall is open seven days a week and the audio programme is required to run for 14 hours per day so reliability and stability are obviously paramount. Networked audio provides the flexibility and simplicity needed to control the 40 separate loudspeaker zones. The Ovation connects to a Symetrix SymNet Radius 12 x 8 which then connects to the new Bose PowerMatch PM8500N power amplifiers via Dante.
'Ovation is very easy to use – you don't need advanced programming skills to set up interaction rules between events to create even the most complex show,' says hého Technical Manager, Julien Bachelier. 'It is a powerful tool with many functions and controls and it suits this application extremely well.'
More: www.hehodesign.eu
More: www.merging.com
More: www.symetrix.co
More: www.audinate.com