One of the prizes of the New York Hamptons dining scene, Dockers Waterside made do with a below par sound system until recently – in spite of offering regular live music, as well as its two outdoor 'living rooms', three bars, and tables that overlook the bay. Now, however, Taylor Sound has stepped in with a system built around a Symetrix Zone Mix 761 fixed-architecture processor, bringing improved sound quality and control from smartphones via Symetrix's ARC-Web.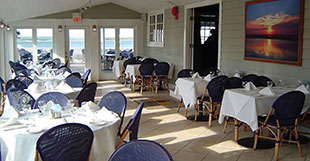 'Dockers Waterside previously had some amplifiers and music-store-grade analogue and digital processors,' says Taylor Sound owner, Bill Taylor. 'Some of the components had gone bad, but the real motivation for upgrading the system was the owner's inability to manage the inconsistent levels coming out of his music players. His solution was to try to compress the signal so as to achieve uniform output, but the compression sucked the life out of the music and killed the low end. It just didn't sound good.'
The automatic gain control (AGC) in the Symetrix Zone Mix 761, together with the rest of its processing power, is providing rather better results.
Inputs to the 12-input Zone Mix 761 include an iPod, a Sonos music player system, output from the live music system and a wireless microphone. Taylor used all six of its outputs to feed six separate zones around the venue via three new Crown XLS 1000 amplifiers and the existing loudspeakers. Additional improvements include a collection of Audio-Technica paddle antennas that provide coverage for the wireless microphone throughout the establishment. The staff select zone inputs and adjust volumes via Symetrix ARC-Web, which they access from smartphones. They can also make changes using a hardwired Symetrix ARC-2e wall-mounted, menu-driven remote located near the main bar.
'We got the system up and dialled in very quickly,' Taylor says 'We were able to give Dockers so much more functionality than it had previously. Symetrix's AGC algorithm is great, and the owner is very pleased with the quality and consistency of the sound now. Being able to hand him ARC-Web put the installation over the edge. He loves having that kind of convenient, cutting-edge control.'
More: www.symetrix.co