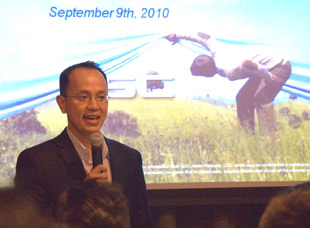 Contunuing its 'local' approach to international marketing and support, QSC Audio Products reports the opening of an Asia-Pacicif subsidiary, QSC Asia Ltd in Hong Kong.
Located in Hong Kong's New Territories, the operation includes a 500-sq-m split facility providing localised sales, service and support capabilities. It will manage the supply chain and offer 24/7 back office support and product training across the Indian sub-continent to the West, across the Far East to Australasia, including the powerful China and Japan markets.
The move represents the culmination of a strategic five-year plan following 'the strengthening of our Asian infrastructure,' says Harold Yin, QSC Senior VP of Global Sales & Marketing. 'First we needed to "earn the right" to enter the market and have the right management team in place.'
David Fuller was appointed Sales Manager for the region in April, alongside project application support technician Sebastian Chong who serves as Regional Product Specialist.
'Though the global recession then slowed down that momentum, it didn't stop us spending 18 months of solid planning through 2009,' says Harold Yin. With the market in Asia-Pacific continuing to grow, by early 2010 QSC had identified this region as a critical priority, and Hong Kong as the base from which to service it. 'We will be putting in all the support functions, including sales and marketing, technical support and training. We have a theatre in which to present seminars, and with Asia becoming an early adopter of Q-Sys [QSC's digital network architecture], this is vitally important.
'QSC carries a high brand premium and we need to demonstrate the ability to deliver service and support as well as training and education,' he adds. 'High levels of technology, as represented in our Q-Sys offering, demand highly technical consultative sales and support capabilities. It's therefore important for us to be able to educate our distribution and sales partners, and provide customers with a compelling reason for buying QSC.'
'This represents a significant investment for QSC,' says QSC CEO, Joe Pham. 'We are excited about our prospects for growth in the Asia-Pacific region, which requires strengthening our capabilities, and enhancing our partners' capabilities as well.'
The QSC office can be found at Unit 7a on 28th Floor, Cable TV Tower, No.9 Hoi Shing Road, Tsuen Wan, New Territories, Hong Kong. The Demo and Technical Service Center is located at Unit 01 on 13th Floor, Cable TV Tower, No. 9, Hoi Shing Road, Tsuen Wan, New Territories, Hong Kong.
More: www.qscaudio.com