Pearl Jam recently completed a sold-out, two-month tour of North American arenas in support of their latest studio album, Lightning Bolt –the first appearance of the Seattle-based band's on the tour circuit since 2010. Again, the band carried a full L-Acoustics K1 loudspeaker system supplied by Rat Sound Systems.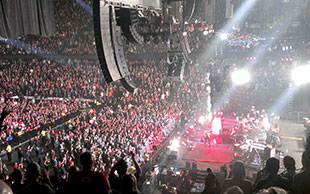 Rat Sound's relationship with Pearl Jam dates to the band's debut album, Ten, in 1991, when it opened for one of Rat's other long-time accounts, Red Hot Chili Peppers. Since then, the company has served as the group's primary live production provider.
According to Rat Sound's Kevin McKenzie, who has served as Pearl Jam's system tech for the past decade, the PA used at each venue typically featured 14 K1 plus six Kara down fill boxes per side with adjacent hangs of a dozen K1-SB. Additional left and right side hangs were both comprised of ten K1 and six Kara, while four more arrays of 15 Kara each provided the 270° and 360° reinforcement positions for most venues.
To augment the low end, eight SB28 per side were ground-stacked in front of the stage, with eight ARCS II enclosures and six self-powered 108P coaxials providing front-fill. The entire system was driven by LA8 amplifiers and controlled via L-Net.
'We run across many decent-sounding systems when doing festivals in Europe and South America, but, to me, K1 is still the best tool for this show,' McKenzie says. 'Compared to V-Dosc, it throws farther and a little bit wider, plus has more horsepower, which was great for a loud rock tour like this. Our signal path was fully digital at 96k between the DiGiCo SD5 house desk and LA8 amplifiers, and the sound was always crystal clear each night with consistently even coverage delivered to every seat in the house – including those behind the stage as most shows were sold 360°.'
McKenzie also notes the low-end complement provided by K1-SB and SB28: 'K1 is a full-range box and can obviously be used with SB28 with great results,' he says. 'However, we chose to also fly 12 K1-SB per side, which coupled very well with the K1 arrays and provided truly tight, chest-thumping impact and uniform low-end contour to the entire audience. Adding the ground-stacked SB28s to that really rounded out the bottom and created a very satisfying hi-fi sound.'