London's Factory Studios has equipped its Studios 1 & 2 with a new Solid State Logic AWS 948, replacing previous DAW controller/plug-in/outboard gear with user an integrated interface and DAW control in order to streamline workflow.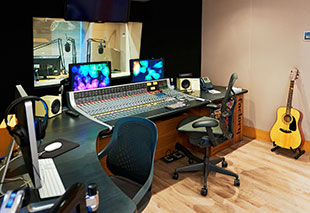 'While we successfully used dedicated DAW controllers for many years, we realised that our workflow could be optimised, which led us to the AWS 948,' says Factory Studios Sound Engineer and Technical Support Manager, Ben Firth. 'With the AWS 948, we are able to eliminate the need for outboard preamps and dynamics. While the old workflow model gave us a great sound, when researching replacements we felt definite improvements could be made to assist with project-based management across the facility. Additionally, the AWS 948 has an integrated DAW controller that allows us to have all of the DAW control functionality that we are used to.'
The updated studios at Factory Studios are set up with live rooms for recording music, dialogue and sound design for projects ranging from TV and radio commercials to music and cinema releases. Studio 1 & 2 both centre on Pro Tools DAW systems controlled by an AWS 948 console. Additionally, Factory's Studio 3, which is a Dolby Approved Cinema Suite, runs SSL Duende Native plug-ins for consistency across the facility.
'With the AWS 948, we have gained the world-famous SSL SuperAnalogue mic preamplifiers, channel EQ, the bus compressor and several channels of SSL dynamics all in one package,' Firth says. 'Consequently, the ability to use these items on our productions has made a significant difference in speeding up the workflow and getting that classic SSL sound dynamic. In the past, we had to search for the right sound. With the AWS, the right sound is there from the start, so we only need to spend more time concentrating on the sound design and mix.'
Recent projects passing through the Factory Studios doors include the Honda Hands commercial for Channel 4 Idents, which won a Silver Medal for Sound Design at the London International Awards 2013 and Outstanding Sound in a commercial at the Hollywood Post Awards. The Camelot National Lottery's Heroes Return commercial was recognised for Best Sound Design in TV Advertising at the MAS International Awards. Heroes Return and the company's Guinness Cloud and Nike My Time Is Now videos were each Cannes Lion 2013 award winners.
'We put the AWS 948 consoles in place to ensure that we continue to produce award-winning output across the studios,' Firth adds.
Factory Studios is a division of Factory, which includes a creative production agency Texture and Siren, which specialises in bespoke music composition and production.