Autograph Sales & Installations recently completed delivery of a new DiGiCo SD9 RackPack, including a control surface, two SD-Racks and associated cabling, to the Arts Educational Schools London (ArtsEd).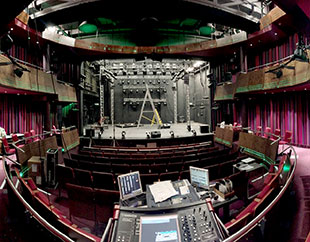 Counting Martin Clunes, Catherine Zeta-Jones, Julie Andrews, Bonnie Langford and Will Young among its alumni that, the school is also a dedicated training establishment that offers some of the best tuition available for musical theatre, and acting for film and television.
Co-founded in 1919 and 1922 by Grace Cone and Olive Ripman respectively, the Cone and Ripman schools were pioneers in providing talented children with an academic education alongside training in the dramatic arts. The schools joined forces in 1939 to become the Cone Ripman School, and were re-named to their present appellation in 1947. Lord Andrew Lloyd-Webber became president in 2007, and his generosity has facilitated a major refurbishment project at the school. The main theatre, costume storage facilities, the School of Film & Television and physical access to the school will all benefit enormously from the support provided by the Andrew Lloyd Webber Foundation.
The new console was supplied by Autograph to fulfil a number of roles, including live sound mixing for in-house productions and music. It was specified principally because of its combination of audio performance, compact dimensions and cost-effectiveness, but the fact that DiGiCo consoles are the predominant choice of professional theatrical sound operators worldwide delivers an additional benefit: most visiting sound designers and engineers will be familiar with the programming and operation of the desk, and will be very pleased to work with such high spec industry standard equipment.
Autograph offered training to key school personnel, both before and after delivery, to ensure that the potential of the new system can be fully realised. That potential is due to be fully explored when the school presents its own production of Evita to mark the official opening of The Andrew Lloyd Webber Foundation Theatre in November 2013. Performed by ArtsEd's 3rd year Musical Theatre students, the performance of one of their patron's most iconic works promises to christen their new facility in style.
Autograph's Giuseppe 'Peppe' Mallozzi describes how their relationship with the school blossomed: 'I first met Phil Bell (ArtsEd's in-house audio technician) when he attended a DiGiCo training day here at Autograph. He immediately saw the console's potential and following that initial contact we worked closely with him and the school to ensure that the SD9 was the ideal digital desk for their theatre. It's been great fun and very rewarding to work with such a remarkable establishment, in particular one that develops talent in the performing arts, an industry that is at the heart of Autograph.'
'Working with a DiGiCo console gives both me and the designers who work with me at ArtsEd the flexibility, reliability and performance that is required here,' says Phil Bell. 'It also enables our students to gain an experience as close to replicating performing in the West End and at the highest professional level as possible, and which would also complement our fantastic new theatre.
'Having Autograph involved meant we had complete confidence that we were buying the right product for us,' he adds. 'The support and aftercare we have received has surpassed our expectations and the enthusiasm shown by Peppe for our work means that we will certainly want to develop a long-lasting relationship with Autograph.'
More:
www.digico.org
More:
www.autographsales.co.uk