A political party festival and a symphonic orchestral performance at Thessaloniki Concert Hall provided new stages for Soundcraft's Vi1 audio console in Greece recently.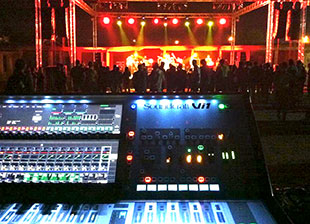 Supplied by Bon Studio to Greek rental company Q-Sound, the concert was a tribute to Greek poet Kavafis, and required all 64 input channels on the Soundcraft Vi1 – which provided the smallest possible footprint for the FOH desk. 'We could not have imagined better results from a Soundcraft console of this size,' say George and Chris Paraskevopoulos, owners of Q-Sound. 'Our mission was to be able to support venues of this magnitude, while also creating the exact level of sound that the orchestra needs. We are glad to say the Vi1 helped us achieve this goal and exceeded our expectations.
'The recent shows were such a success that we decided to acquire a second Soundcraft Vi1,' adds George Paraskevopoulos. 'The portability, combined with the amazing yet easily controlled sound system, is a huge advantage for the variety of events that we manage. From political gatherings to cultural events, nothing seems to be a problem for the Vi1.'
To date in 2013, Bon Studio has sold 28 Si Expression consoles, seven Si Performer consoles and nine Vi1 consoles to the Greek audio market.
More:
www.bonstudio.gr
More:
www.soundcraft.com