A debut at Le Book marked the first takers for Martin Audio's new MLA Mini ultra compact multi-cellular loudspeaker array – the Hive Partnership and its A/V rental division, London Speaker Hire (LSH),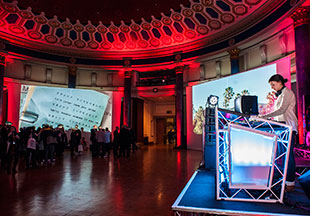 The set-up – four MLA Mini enclosures (plus MSX mini sub power plant) to cover each side of the stage – was used at a two-day creative trade show at London's County Hall, where two bands performed in the Rotunda in front of around 500 members of the worldwide creative industry.
Set up five years ago, but now part of the expanding Hive Partnership, LSH has established a reputation for including the latest technologies in its rental inventory: 'Six months ago we decided to set up a special projects division dedicated to providing clients with that extra level of personal attention,' says LSH Director, Grant Turner. 'Through the relationships we had built up, we gained a better understanding of our client's wish lists – and Martin Audio kept popping up as a brand of choice.'
The company first became aware of MLA Mini through the Martin Audio website before hands-on at the London Plasa Show. 'We had wanted this type of modular system for some time and researched the market to narrow down the options, Turner says. 'But MLA Mini is pretty much in its own class.'
A demo of the MLA Mini at Martin Audio's HQ followed: 'Since our business is dependent on relationships with the manufacturers we wanted to get a feel for the people behind the product – it was imperative for us that we had that direct contact, and Nigel Meddemmen [Martin Audio Technical Support] actually attended Le Book to assist us with the rig – which was an amazing service.'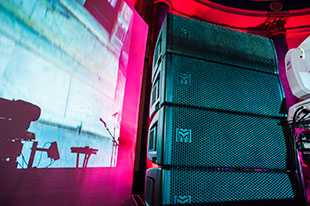 At the event itself, Turner says the acid test was when the sound engineer from Arthur Beatrice – Universal Music's up-and-coming indie band – who had previously been specifying other front line systems on the rider, immediately requested a quote for MLA Mini.
LSH had provided sound for eight rooms but it was the main Rotunda, where the gigs took place that provided the biggest challenge for MLA Mini: 'Not only was it a circular domed room where everything had to be ground stacked, but the layout was very limiting due to floor-to-ceiling projections taking place as well as a conference during the day.'
Told they were unable to fly a system at just 24 hours' notice LSH quickly reconfigured its layout designs as the MLA Mini can be ground-stacked without compromise.
Two days later Athlete bassist, Carey Willetts presented his solo Boxes project using the LSH system. The Video Geeks, who, were supporting the gig, were sufficiently impressed with MLA Mini that they asked to hire the system: 'They loved the MLA Mini paired with the large modular video panel screen we supplied, and commented in particular on the amount of low end,' Turner reports. 'The system was only running at about 20 per cent, which tells you a lot about its potential.
'Where you would traditionally need to use a flown line array in certain smaller venues, nearly all current systems are so large that they are impractical, he concludes. 'With the MLA Mini we are spoilt for choice. The compact footprint means we can have a two-man set up on certain events whereas we would have needed double that. This in itself is an immediate cost saving towards ROI.
'All of our team will now be trained on the MLA technology as we have a very strict policy of cross training all staff so that everyone has knowledge of all our products.'
The Hive Partnership already has a number of high-profile events and festivals lined up for the system in 2014 – notably one of the stages at Glastonbury.
More: www.martin-audio.com