The first Meyer Sound Leo system in Peru made its debut with an all-star Latin line-up headlined by salsa superstar Rubén Blades at the Pilsen Callao Festival in Lima's Estadio Nacional.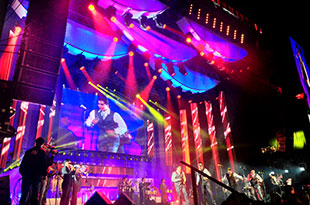 Owned and operated by DBLux SAC, the LEO linear large-scale sound reinforcement system addressed the 120m concert field without the use of delay towers. 'I've worked with almost every line array from the major makers, but I've never before had that feeling of unlimited headroom, where there is always room for more, and uniformity is still preserved,' says Guillermo 'Memo' Gómez, FOH engineer for Rubén Blades. 'Leo is very different from other systems – the sound quality and coverage are exceptional.'
The system was purchased by Andres Cuadros and Guillermo Riera, co-owners of DBLux SAC, and comprises 30 Leo-M loudspeakers, six Mica loudspeakers for down fill, 18 1100-LFC low-frequency control elements and a Galileo Callisto loudspeaker management system with four Galileo Callisto 616 array processors and one Galileo 616 AES processor.
The concert was the first opportunity for some of the artists' engineers to mix on a Leo system. 'It was an incomparable feeling,' reports Ender Torres, FOH engineer for Adolescentes Orquesta. 'Leo is unmatched by any other line array system­ due to its quality, versatility, sound pressure, and accurate definition at all frequencies.'
Also using Leo for the first time was Jose Quique Vives, FOH engineer for Tego Calderón: 'It was one of my best mixing experiences,' he says. 'The system has flat sound projection over very long distances, and is very efficient in the high frequencies. The presence of the sound made my work easy.'
Shortly after its National Stadium debut, the Leo system provided reinforcement for 30,000 people attending Festival Claro at Lima's Plaza San Martin.
'We invested in Leo because it sets a new standard for power and clarity in large systems,' says DBLux SAC's Andres Cuadros. 'It also integrates seamlessly with our existing Meyer Sound loudspeaker inventory so we can offer a complete high-performance system. This gives us a great competitive advantage.'
As one of the Latin America's premier sound providers, DBLux SAC has supported performances by regional acts as well as international stars such as Paul McCartney, Elton John and Justin Bieber.