Seating up to 25,000 people, the enormous CheongShim Peace World Center in South Korea's Kyunggi province demanded more than an analogue infrastructure could provide for its audio and data transport. Instead, it was equipped with an Optocore high-bandwidth, low-latency fibre-optic network.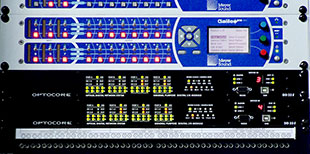 Located just over 21 miles outside Seoul, the center is operated by Unification Church (Moonism) and is Korea's largest indoor cultural complex. Its 127m steel-frame structure houses a 9m-high arena that is used for various activities by the church's general assembly, as well as for corporate events, concerts, plays and CF (commercial) shooting. Paired with Yamaha gear, the Optocore system transmits audio digitally from stage mics to FOH and PA system.
'We chose the Optocore system for its reliable optical transmission system, in order to ensure the audio would be heard throughout our large arena,' says Kim Hanchoon, the venue's Audio/Video Technical Director. 'Traditional cabling was just not going to be reliable enough and while Optocore is still a rather new technology to many here in South Korea, we were happy to expose the team to Optocore's fibre optic transmission method and all of the benefits that can be reaped from it.'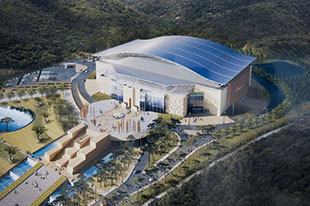 The equipment has been installed to support FOH as well as the sound control room. The Optocore DD32E system comprises three X6P-16IN units in a stage rack, each with 48 channels of analogue mic inputs to digital and one X6-16OUT with 16-channel DA conversion. In addition, the DD32E provides AES/EBU feeds to the system's loudspeaker DSP controllers at the main mix position, with a Yamaha PM5D mixing console loaded with one Optocore YG2 fibre-optic card and two additional Optocore YS2 Slave cards that allow for up to 48 inputs and outputs to/from the network to the mixing console, as well as control of the X6 Optocore microphone preamps.
In the sound control room there is a Yamaha DM2000VCM console, also loaded with an YG2 fibre-optic card and two Optocore YS2 Slave cards. Rounding out the system, the technical team uses speakers and a Galileo control unit from Meyer Sound.
'Having the Optocore system in place enables us to transmit signals by a fibre-optic cable without noise or any audio loss,' Kim Hanchoon explains. 'When our audio is at microphone level, there is no noise to distract our constituents; they are hearing the sermon, loud and clear, which is very important to us. In addition, it's easy to control the Optocore system with the touch of a button on the console, and also allows the user to configure the control layers.
'It's often the case when using a multi-cable set-up for a long distance signal, that there might be a loss of signal transmission caused by the circuit size that is over 200m, such as in our case,' he adds. 'Using fibre-optics instead, we can overcome the distance barriers, ensuring smooth, reliable transport every time.'
'We are so pleased to provide such a complete solution to the A/V team at CheongShim World Peace Center,' says Optocore Director, Tine Helme. 'The fact that our system can be used in three ways – as an electrical transmission system by multi-cable (analogue), signal transmission of console and stage box (using PM5D and DSP50) by UTP cable, as well as optical transmission – is further proof of the unprecedented benefits that fibre transport can bring to even the most challenging of situations.'
More: www.optocore.com