The Hollywood recording studio of film and television scoring composer John Jennings Boyd has made a feature of Focusrite's RedNet Dante-based Ethernet-network.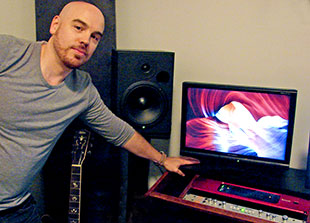 Boyd is using a RedNet 1 A/D-D/A audio interface to connect two computers running RedNet PCIe cards. With each card handling up to 128 channels (at 3ms round-trip latency) via a standard Ethernet cables and a network switch, Boyd can sequence live music from Cubase from one of the computers and stream that audio directly to a Pro Tools system on the second. What once required complex copper snakes or Madi cables, has been simplified and made more efficient.
'This future-proofs my workflow,' he says. 'I'll be able to scale this signal path to any extent, in any facility. It is incredibly convenient to be able to have separate computers dedicated to sequencing and recording and never have to worry about latency or sync.
'RedNet has become my main converter,' he continues. 'I'm using it to record guitars, solo instruments and vocals, and the conversion is totally transparent and lightning-fast.'
There is also an economic benefit – by supporting high-resolution audio on a basic Pro Tools 11 platform, Boyd doesn't need to upgrade to an HD3 system.
'The quality of the sound is very close to what you'd experience from an HD rig at a fraction of the cost, and I can run video right from a Pro Tools session,' he reports. 'This is the acid test for film scoring workflow these days, and RedNet comes through with flying colours.'
More: www.focusrite.com