Madeleine Peyroux's current UK tour included a sell-out concert at the Royal Festival Hall for the last night of the London Jazz Festival, where she was supported by Manchester-born singer, Josephine. At front of house was mixing engineer, Gerard Albo – whose credits extend from Amy Winehouse and Anastacia to the Luxembourg Philharmonic Orchestra – and an Avid S3L mixing desk.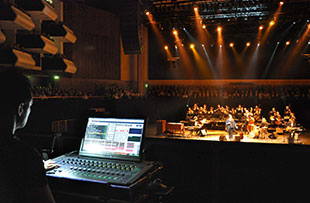 Albo has worked with Avid since 2006, when he first used a Venue console for Corinne Bailey Rae. The software gave him the method of working and results he wanted, and it became the start of his long-term rapport with Sheldon Radford, Senior Product Manager for Avid's Live Systems & Consoles Group, and Andy Huffer of Avid Venue distributor, HD Pro Audio.
After only three gigs, Albo is passionate about the new console: 'I had discussed the possibilities of such a console with Sheldon for many years, and the S3L has given me everything I expected and hoped for; the compatibility and familiarity of the software combined with the greater flexibility and functionality I had always wanted,' he says. 'As my fluency with the S3L increases I now find myself frequently using the touchscreen that Andy packaged with the console, which further expands the flexibility and speed of work. Within a package of this size and weight it is a remarkable product'.
'When Andy Huffer offered me the S3L for this tour I jumped at the chance, even though the timescale was tight and we wouldn't have time to soundcheck the first concerts. Such was my knowledge of the system's operation and confidence in Avid that we loaded up a previous show file programmed on a Venue Profile and it performed perfectly. My personal relationship with the artists I work with is essential for me. My love of the music and their interest in the part the sound plays is very important and Madeleine was totally involved with the decision to use the S3L. She is an artistic perfectionist and surrounds herself with the most talented performers, but also gives a lot of attention to the technical side of her performances.'
'We're very impressed with the new console and these first gigs have proved its flexibility, ease of operation and superb sound quality,' says Andy Huffer. 'One of the major benefits of the S3L concept is that it can mix a live show while recording directly to Pro Tools, and the S3 control surface can then be used later as a Pro Tools controller for mixing, overdubbing, and other session requirements.
'With a design goal to be small and light, it meets the need in today's music business where performing artists have to work harder than ever to capture revenue from live shows and recorded works in tandem,' he adds. 'The S3L is small enough to be carried onto the tour bus and up to the hotel room, or transported as additional baggage. As a package it has no equal.'