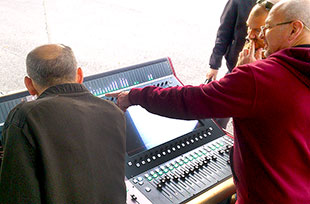 Cadac recently held a further European live sound industry presentation in association with French distributor, Audio2. The event was hosted by events rental specialist Dushow at its Nice HQ, in conjunction with DPA microphones and Meyer Sound.

'Following the success of our first presentation event with Outline in Italy, we are embarking on a series of roadshows across the continent, in order to demonstrate the operational and audio superiority of our new product range – particularly the CDC eight and CDC four digital consoles – directly to the industry professionals who are making and influencing purchase decisions; be it for hire stock, tour productions, or demanding installations,' says Cadac Brand Development Manager, Richard Ferriday.
The one-day event attracted hire companies, sound designers and engineers from across France and Spain. The success of the event for Cadac was indicated by the CDC eight-16 console left behind with Dushow Technical Director, Barguirdjian, for further evaluation.
'Every industry professional who gets hands-on with the CDC eight is duly impressed,' Ferriday says. 'And, of course, while we are thrilled at the overwhelmingly positive reaction to the desk, we are not resting on our laurels, we are taking onboard all of the feedback we are getting from the front line and that is shaping the on-going development programmes, for both the CDC eight and CDC four.'

See also:
Outline and Cadac: Making the Brescia Connection
More: www.cadac-sound.com