Martin Audio's MLA Mini enjoyed its first commercial outing recently when it was used on at the annual conference of retail giant, SPAR. The venue was the UK's Westpoint, regarded as one of the most challenging venues around or a 'soulless shed', depending on your vocabulary.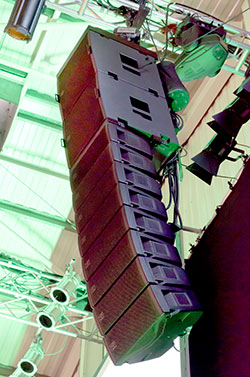 Westpoint was originally designed for the trading of Devon's livestock, with no regard for its acoustics. As a result, it has a reverberation time in excess of 7s. With MLA and MLA Compact having taken on and tamed some of the most challenging spaces around, MLA Mini had a reputation to uphold…
The event is also a cornerstone in the calendar of Plymouth-based Pyramid AV, whose production team has handled events at SPAR for some years. Armed with 24 MLA Mini, six MSX subs and three flying frames, the task of getting the sound right fell to front of house engineer Simon Honywill and Martin Audio Applications Engineer Andy Davies.
The system was designed in three hangs, with two main aims – intelligible coverage of speech and music for the seated conference area at one end of the hall, and coverage of the entire hall for general announcements throughout an 80m x 50m exhibition space. Honywill and Davies opted for an eight-deep LR configuration for the conference, which was flown upstage of a thrust where all presentations would take place, and a central third hang of eight, approximately 30m out into the hall. The third hang was optimised to cover approximately 50m to the far end of the hall, and the LR was loaded with two optimisations, one to cover just the seated conference and the second to work with the central hang to cover the entire hall.
'I would go so far as to say that Westpoint has never sounded so good,' Honywill reports. 'It was actually gorgeous to behold. This little system has something that I have never heard in a small format line array before – real depth and control across the entire spectrum, and a genuine ability to throw some distance. It is warm, smooth and extremely well behaved, requiring little or no EQ on all the head mics, save a bit of LF roll-off. There was loads of gain before feedback, and I was actually enjoying the very simple task of mixing a little playback, speech and VT – everything sat just right.'
His confidence for future use of the system is evidently high: 'Problem voices will be a thing of the past, as you can open up mics like never before, even with some of the top-end conventional small-format systems. I would recommend it to anybody who takes their corporate work seriously.'
'Having the Mini MLA system at Westpoint this year reaffirmed to me that it is possible to have beautiful sound in a challenging space,' says Pyramid AV Director, Nic Black. 'It was a great opportunity to have demonstrated the simple fact that well engineered audio can enhance the experience of the listener. We have had much positive and complimentary feedback regarding the sound and it was without doubt the best we have had.'