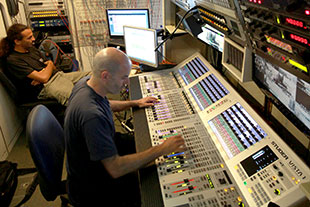 Since being founded in Tel Aviv in 1992, Mizmor HD Productions has grown steadily, and now operates four sophisticated HD OB vans broadcasting sport and national events. Among the OB fleet is the largest mobile in Israel, accommodating up to 14 cameras, which has recently seen the installation of a 32-fader Studer Vista 1 digital mixing console.
The Vista 1 and Compact Stagebox were secured through Kilim Electronics, Studer's Israel distributor, to replace an analogue console. The OB van's technicians say their excitement on taking delivery was eclipsed by the speed of installation (which they undertook themselves). They then discovered just how easy the Vista 1 was to operate.
'They started working only a quarter of an hour after the installation was complete—without the need to study the manual,' says Kilim Electronics MD, Meir Kilim, whose Haifa-based company supplied all the services.
The Vista 1 is a transportable all-in-one digital mixing console for broadcast, live and production use, with the control surface, I/O system, DSP and power supplies all contained within the console. This makes it the ideal choice when space is restricted, such as in OB and ENG vans. The Vistonics user interface provides 40 on-screen rotary knobs, giving the Vista 1 the look and feel of the larger, more sophisticated, Vista consoles.
More:
www.kilim.org.il
More:
www.studer.ch