On the heels of adding Nugen Audio to its portfolio, Amber Technology has been named the distributor of SSL's Live console in Australia and New Zealand. Already long-standing partners, Amber Technology is the latest company to join SSL's commercial distribution network for the live sector.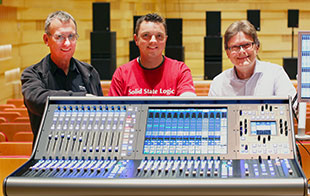 'We have forged a powerful partnership with Amber Technology, which has years of success delivering SSL consoles to music and broadcast clients in the region,' says Paul Lindsay, Area Sales Manager for Solid State Logic. 'With the new Live console, we will be able to build on Amber's wide product range and market experience to address both the live and install sectors, which are new territories for SSL, but are markets that Amber has successfully served for many years.'
'We have been waiting for the SSL Live with great anticipation,' says Amber Technology Business Unit Manager, Leon Hart. 'SSL Live is a technology platform with a fresh approach to how a live console should sound and operate giving engineers a control surface that helps them deliver exceptional performances. The Live console has been a couple of years in the making and we are very confident that Live is a console that engineers will love.'
The appointment follows those of Juke Box and Cablateam as the official SSL Live dealers in France and Italy.