HHB Communication's Pro Audio Report Issue 1 is now available in a digital edition.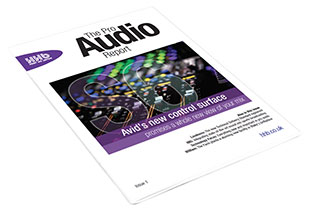 The report highlights the latest professional audio products with features on industry topics, complemented by a digital edition with links to video, technical data and pricing information. This is the first in a series of regular reports on the latest pro audio technologies and trends for the broadcast, education, music recording, OB, post, radio, television and video games markets.
A section of the Pro Audio Report is devoted to Avid's S6 modular control surface. An in-depth look at the features, component modules, console configurations and more is provided, with links to all the technical information that is currently available about the S6.
Also in this issue, UK Screen Technology Working Group Chair Neil Hatton discusses the implications of the Digital Production Partnership's (DPP) introduction of EBU R128 loudness standards for TV broadcast in the UK. Suggestions for essential loudness control, management and measurement technologies and a guide to the DPP's loudness requirements are also provided.
These features are presented with product information on software and hardware, ranging from plug-ins through DSP loudspeakers to the most recent Pro Tools updates.
'The Pro Audio Report Issue 1 is the beginning of a series of publications that highlight the most up-to-date information for pro audio professionals,' says HHB Group Sales Director, Steve Angel. 'These publications are editorial driven and highly focused on the needs of the user. The digital edition enhances the Pro Audio Report with links to rich media, to provide the most in-depth and comprehensive information available.'