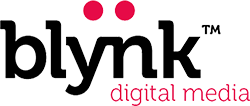 UK-based Pro Audio Systems has launched launch a new commercial division and a 'brand makeover' of existing businesses. Blynk Digital Media now takes its place alongside a re-vamped Pro Audio Systems in the group's portfolio of operating divisions.
Established in 1988, Pro Audio Systems spent much of the intervening period providing a range of pro audio hire, sales and installation services. In 2004, the company was appointed one of five Meyer Sound dealers for the UK, expanding its hire inventory to include a Milo loudspeaker system and other Meyer Sound products.
It was the company's work in high-security airside installations, that provided the impetus for the new operating division, as co-founder and Director Paul Siddall explains: 'For some years we've worked closely with a major international retail group, originally on their audio only. We were eventually approached by that client to take on their digital signage too – they liked the quality of our work, our people, our attitude and attention to detail, and they wanted that same level of partner commitment in their visible media technologies too. We've invested in the specialist people and tools necessary to maintain our standards, and it's opened lots of new doors for us.
'We realised that our new ability to provide integrated solutions which combine truly professional audio performance with cutting-edge digital signage made us unusual if not unique,' he continues. 'Meyer Sound products are key components of these systems, along with an extraordinary suite of control software for which we are now the main UK representative. We also realised that potential clients for these 'experiential' systems are somewhat different from our traditional client base, and so we decided to launch a new part of our business which is totally dedicated to them and their needs.
'At the same time, we saw that the rest of the business was overdue a makeover and so we rolled all the separate projects into one. Consequently we now have a new umbrella name – Blynk Group – and two subsidiary divisions, Blynk Digital Media and Pro Audio Systems, the latter of which remains operationally unchanged. Everything has a fresh new look to reflect the changing face of our company while retaining the equity we've established over 25 years in business.'
'Blynk Digital Media gives us the ideal vehicle to take the expertise and products we've assembled in creating really sophisticated integrated systems to a whole new range of clients,' says Managing Director, Brian Lumb. 'The whole vibe is completely different, as these mostly corporate clients are looking for complete multi-media solutions rather than specific equipment. It's been a steep learning curve for us but really exciting and a golden opportunity to develop our business against an economic background that isn't obviously ideal for growth. Best of all, Pro Audio Systems continues to go from strength to strength alongside the new division – it's all good.'