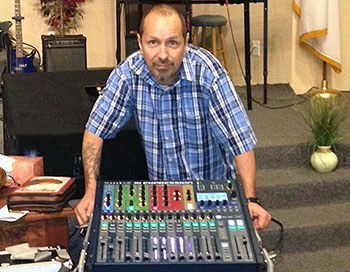 With their heavy reliance on volunteer operators, houses of worship are a key target market for Soundcraft's Si Expression series of digital mixing consoles. Taking Christianity to prison inmates, however, is a new take on the desk's application.
The Conviction church in Albuquerque, New Mexico-based has added an Si Expression 1 desk to its audio inventory. As a musician with decades of experience in sound equipment, Conviction owner Eddie Baird has toured more than 500 prisons in the US over the past year, and recognised the difference between the Si Expression and other desks he has used: 'The Lexicon effects are perfect for our needs right now,' he says. 'I feel like I can do so much with just the Si Expression.'
To complement the channel and bus processing, all Si Expression consoles are equipped with four stereo Lexicon FX processors based on the MX400, boasting 29 presets each, user-adjustable parameters and dedicated tap-tempo keys. For the touring artist, the Si Expression 1 also offers a compact form factor with short set-up time, while the Cue system also allows settings for the 24 recallable mic preamps to be saved.
'Set-up times are incredibly fast,' Baird confirms. 'We arrive at detention centres and are ready to go immediately – which is important, due to the limited time constraints we are given. The transition from analogue to this digital console was smoother than expected, because it feels just like an analogue board, but with the added digital features. I absolutely love the experience, and look forward to recording with it.'
More:
www.soundcraft.com