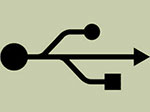 ARX has created a new USB Audio Knowledge Base, bringing together and updating the company's library of Application Notes, Q&A pages, info updates (including Windows 8) and more on USB Audio.
The library covers a comprehensive range of topics relating to the use of the USB bus for audio applications, including USB Audio Basics, USB Audio Application Notes, USB Audio Questions & Answers, and setting up trouble-free USB audio environments in Windows 8, Windows 7, Windows XP, and Mac OS-X and Lion.
The new Knowledge Base is designed to be a valuable on-line reference resource for anyone using USB in professional audio applications.