When engineer Martin Walker took up station at FOH for Iron Maiden in 2012, he brought his console of choice with him – along with experience gleaned from working with a long string of bands including Judas Priest, Slash, Whitesnake and Californian thrashers Testament. The desk was a DiGiCo SD7.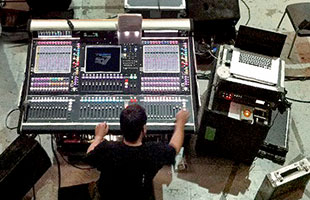 'The first time I was involved with the SD7 was when I sat with Lars Brogaard on the first Rod Stewart residency at Caesar's Palace in Las Vegas,' he says 'I moved up to one with Judas Priest two years ago and I haven't looked back.'
An Iron Maiden show requires about 40 inputs, plus a further 12 from various outboard units and playback at FOH. Outputs comprise main left and right, with subs on an aux and vocal fills. Walker also makes a multitrack recording of most shows using Pro Tools with a JoeCo backup.
'I have nothing but good results from the SD7,' he reports. 'Sonically it's in a league of its own, it sounds natural, warm and has a rock-and-roll edge without you having to overdrive, over EQ or over anything.
'I love the onboard multiband compressor – it's an absolute necessity with Bruce's voice – but one of the most important features for me is the video screen,' he continues. 'There is a camera dedicated to following Bruce throughout the show and I have a feed from it, which I literally watch all night. It shows me where he is on stage, so I can mute his mic when necessary, it also shows me how he is handling the mic and I can see from his performance how much input I am getting. It can vary a lot, so a smooth vocal mix would be impossible without being able to keep a constant watch on him. It remains a big challenge, but the close-up video eases the task.
'I treat the desk in a very old-school way. Everything is mixed on the fly apart from using snapshots for Midi-triggering of outboard and to recall notes. I have a few notes that remind me of input peculiarities for particular songs and which guitarist does what lead line or solo and when. At my age the old memory is not as good as it once was, so any help in that direction is a plus.'
The band continues its Maiden England tour with two shows at London's O2, before moving on to the US and South America in September and October.
'The SD7's roadworthiness couldn't be better,' Walker says. 'It's like having a friend out on the road, helping you achieve what you are trying to do. The support from DiGiCo is also second to none, whether it be from the guys in the UK or the US. Any issue, however major or minor, gets sorted quickly, quietly and efficiently within the time frame of a 24/7 touring environment.'
More: www.digico.org
More: www.joeco.co.uk