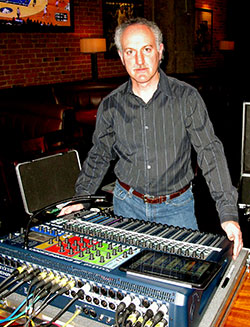 As a one-man operation providing sound equipment for a wide range of events, Hob Sound places versatility high on the list of requirements for its mixing console. With this in mind, owner of the Massachusetts-based company, Rob Bernstein, recently purchased a Soundcraft Si Expression 2 to meet his production and mixing needs.
Within 15 minutes of working with the console, Bernstein was convinced: 'Its versatility blows anything else out of the water,' he says. 'Having the graphic EQs available to all the buses is a huge advantage, and combined with the availability of compressors on each channel, this console replaces a lot of gear. This is critical to my operation, since I cannot haul all those additional racks by myself.
'I love how much faster it is to set up for an event, due to the recallable features,' he adds. 'Even though this is my first digital board, it retains the simple feel and authentic sound of an analogue board that I have grown accustomed to in my decades of experience. Also, I no longer have to worry about choosing which channel gets compressed or gated.'
The Si Expression 2 was purchased through Pro Audio Star.