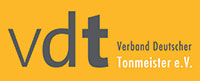 The second International Conference on Spatial Audio (ICSA) has been announced by Verband Deutscher Tonmeister (VDT) in cooperation with the Fraunhofer Institute for Integrated Circuits IIS, with the German and European Acoustics Associations (DEGA and EAA) acting as partners
The event will take place from 21 to 24 February 2014 in Erlangen, Germany, providing a platform for an international gathering of experts, sound mixers, engineers, artists and researchers will share knowledge and experience. Acoustically diverse rooms with parallel installations of wave field synthesis, 3D loudspeaker configurations (with 9.1 to 22.2 channels) and Higher Order Ambisonics will be available throughout the conference for listening comparisons and demonstrations.
To date, more than 40 contributions have been submitted for discussion on topics including: multichannel systems (including 3D audio and up-/down-mixing), channel- and object-based production, wave field synthesis and higher-order Ambisonics, Binaural technologies, spatial audio recording/coding/transmission, standardisation and application of 3D audio, and perception and quality evaluation.
Several roundtable meetings with competent panel lists are also being planned. The talks held during the conference will be published online in an ICSA conference transcript with an ISBN.
The conference will be held in English.