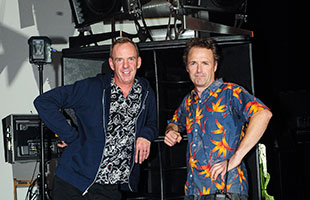 Renowned for his groundbreaking videos, Fatboy Slim (Norman Cook) was at it again for his recent single 'Eat Sleep Rave Repeat', with production partner Riva Starr and guest beat boxer, Beardyman.
The theme was a dance marathon – 500 ravers were invited to dance for 12 hours for a prize of £500 for the last person standing. Staged in an East London warehouse, it was destined to be a fiercely fought competition, with a team of medics, referees and DJs to take care of all needs and eventualities. What was also required was a sound system with more stamina than the most ardent of ravers, so the Brighton-based producer and his record label, Skint, asked Traction Sound to provide a system fit for the job.
Armed with two of BPS218 Hades infra subs, four BH218 Zeus subs and topped off with eight SDS12i Kodiaks (powered by four Powersoft K10s, providing 48kW), the Traction Sound crew oversaw the installation of the system in the challenging warehouse space. As there were only 500 dancers – the warehouse could have held four times that number – the 'club' was set up in the middle of the space, allowing a multi-camera crew, lighting and production staff to use the perimeters. The focused dispersion of the SDS horn minimised the reverb inherent in such a lively space.
Norman was so impressed with the results that he now uses Traction Sound for events held in his newly acquired Big Beach Café in Hove.