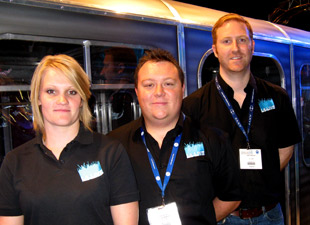 The first development resulting from the
recent merger
of UK structural aluminium specialists Litestructures and Dutch trussing, staging and lifting company Prolyte is the branch of Litestructures a new, independent company called LS-Live. The announcement was made at the Plasa show in London.
Formally Litestructures Live, LS-Live unifies the hire, stage and set areas of operation, and handles Europe's largest purpose-built arena rehearsal facility. Key to the capability of the new set-up is an experienced management team, able to coordinate live event requirements from equipment hire to project management, as well as support to stage and set design. An in-house team of CAD-designers, fabricators and welders can design and build a project from start to finish.
'I'm very excited about heading up LS-Live and taking on the challenge of moving the business from being a division of another company to being a completely independent business with our own business plan, our own resources and our own management team,' says LS-Live General Manager, Ben Brooks. 'Being part of Litestructures and benefitting from its infrastructure for so long has given us an exceptionally strong grounding in what we do – none of us are novices, and what we have created to date already sets us apart from the competition in so many ways. We've got the biggest purpose-built arena rehearsal studio in Europe with six en-suite dressing rooms, 14 en-suite bedrooms and four multi-function rooms; on the hire side we've got a huge inventory of rental gear including the largest stock of LiteDeck in the world, rolling risers and stage automation kit, plus the ability to design and manufacture just about anything you can possibly conceive in terms of sets and stages.
'Consolidating all of this under one roof as LS-Live will make us even stronger and our processes more efficient. With a great team behind me, I'm confident that we can achieve even greater results than before.'
More: www.ls-live.com