Building a bespoke sound system for modern electronic music from the ground up sent Flipside Sound on a mission to revaluate everything they knew and source the best components for the job. The first results of their labours have recently been in installed in London club, EGG.
The brainchild of lifelong friends and audio veterans James Cooper and Michael Layton, the Flipside story began around two years ago with the pooling of their expertise – one from pro audio, the other from underground warehouse parties. They concluded that the current leaders in the field weren't delivering the sound quality they sought. 'I remember going to clubs when I was younger and they had these really big, impressive systems, and the kind of impact it had on me. It's just not like that anymore,' Cooper says. 'We set about building our dream sound system, and that's exactly what we've done.'
They journey took then all across Europe and to the other side of the world, and brought them into contact with some of the most innovative speaker designers working today: 'The system itself is a double 18 Reflex hybrid sub, and then a double 15 tap horn kick unit, and then the top boxes are a horn loaded phase bung 12, and a horn loaded compression driver, and we've used three of the best loudspeaker designers that we've come across in the underground scene,' Cooper explains.
Collaborating with Michael Hurley from Purple Dot, Ian F from Element 5, and Michael Arena from Arena LSD in Australia, Flipside took their initial designs and crafted them into something unique: 'All of the designs we've worked with, modified, and produced a pro-level system that sounds absolutely fantastic,' Layton says. 'It's a point-source array, so everything can be flown, or it works as a groundstack. But also, it just looks very aggressive. A part of what we tried to do was to bring back the showmanship of dance music sound systems, and we've done exactly that.'
Since the idea was to produce a complete system, they looked at what would provide the power required for the custom-built speaker boxes: 'When we first started researching what amplifiers we were going to use, the name Lab.gruppen was the first to come up, because first and foremost, we wanted both power and reliability,' Layton says. 'For our bass units, we built them around precision device drivers, so the first problem we faced was that we needed a hell of a lot of grunt in our subs, and a lot of power going into them. When we started our researching around as to what amps to use, it was always Lab.gruppen. We played around with them for a while and loved them, so it was an easy choice.'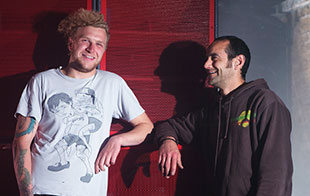 'I run systems pretty fucking hard,' adds Cooper. 'With the Lab.gruppen amps, having that power available there is amazing, and it's a really clean, transparent sound that comes through them, there's none of the colouring or tainting that you might get from other amps which don't have the same kind of dynamic range as Lab.gruppen. The first amps we got were an FP 10000Q and an FP 14000Q, and when we started using them we didn't really look back. We were won over by them. The sound that came out of them was superb.
'Club sound is a bit more dangerous in a way, a bit edgier and rougher,' he continues. 'The way you run a sound system in a club is to run it to its physical limit. Having something you can rely on is completely and utterly essential. The Lab.gruppen amps sound awesome and they're simply bullet proof. In EGG, I'm still running it for about 11 hours, right at the upper limit. I've been checking the amp temperatures and I don't even think I've managed to get up to 20 per cent on the temperature read out, and that is pounding, running two PD1850 per sub. They are power hungry little drivers, and it doesn't even blink! The rack we have got there just shrugs its shoulders and powers on, whenever we run it.'
Once the amplification was chosen, signal processing was the next step, and with Lake Processing now under the stewardship of Lab.gruppen, it was Lake's LM Series that provided the perfect solution, as Layton says: 'We looked at processing, and we had been running another processor and liked that unit, but wanted something that allowed us to be more flexible and also have that kind of clarity that Lake had. The EGG install runs on three LM 26s and one LM 44 at Front of House. Simeon Ludwell, from TC's AET Group, came down and ran us through how to use it, and I've been using it for weeks now and it is just superb. Now I can get what I want out of the system, easily, reliably and safely.'
'The combination of the RMS limiters on the Lake units, the limiter max, and the VPL on the Lab.gruppen amps mean that I can push it as hard as I want,' comments Cooper. 'I'm putting as much power as I physically can into those subs before I start to distort or meet any mechanical problems with the drivers, and I can start to get to that limit and rely on it and run it right up to it, and not have any concerns about things falling over. With the Lab.gruppen amps and the LM Series units, it's really just completely bullet proof and I can run the system to its full potential.'
With the first stacks now installed in London's EGG club, many leading DJs who have played there are taking its reputation and vision across the world, so in awe are they of the power, clarity and aesthetics of the Flipside Soundsystem. With the team now in the process of building their second complete set of racks and stacks, they are already in discussions to take it to an international level, with a leading European club interested in making it their new in-house PA. The team will also be producing a system for event and venue hire.
More: www.flipside-soundsystem.co.uk
More: www.labgruppen.com
More: http://lake.labgruppen.com