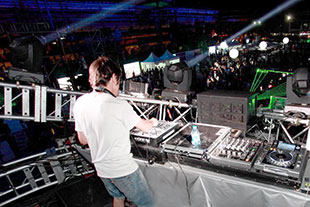 Allen & Heath's iLive digital mixing system and Xone:92 DJ mixer were used at the recent Intro Electronic Music Festival 2013 held at Shougang in Beijing.
Supplied by Sanecore Group, the iLive-144 control surface and iDR10 MixRack were used to manage FOH duties, serving an EAW KF740 line array system driven by Powersoft K series amplifiers. In addition, Allen & Heath's Xone:92 DJ mixer was supplied on stage for the performers.
From its inauguration in 2009, Intro has become one of the biggest annual music events in China, attracting a large number of performaers and artists and establishing itself as one of China's pioneering culture events.
Intro's main organiser is Chinese DJ, Weng Weng – whose mixer of choice is the Xone:92: 'It was the obvious choice to spec for the event,' he says. It has outstanding sound quality, and all the knobs and buttons feel great – especially the VCA crossfader. I chose iLive as the FOH console for the same reason – trust in Allen & Heath's great sound quality – and the event was a huge success.'